a
Naval Defense Industry News - USA
U.S. Navy Orders 48 Electronic Warfare Jammers for F/A-18E/F Super Hornet & F/A-18C/D Hornet

Harris Corporation has received an $88 million order to supply electronic jammers for U.S. Navy F/A-18 Hornet and Super Hornet aircraft. The jammers protect the Navy jets from sophisticated electronic threats, including modern integrated air defense systems. The order was received during the third quarter of Harris' fiscal 2016.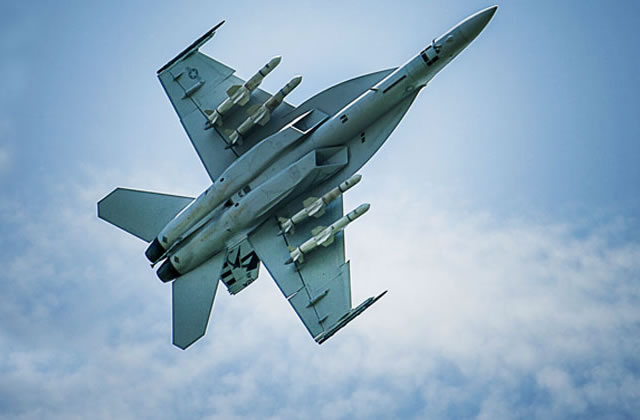 An F/A-18F Super Hornet from U.S. Navy Strike Test VX-23 in flight with four Boeing built Harpoon anti-ship missiles under its wings. Picture: Boeing
Under the modification to the contract awarded in July 2015, Harris will manufacture and deliver 48 on-board electronic warfare jamming systems for the Integrated Defensive Electronic Countermeasures (IDECM) program. Deliveries are expected to be completed by December 2018.

"Naval aviators face a growing range of threats as their missions evolve and hostile actors gain access to increasingly advanced technology," said Ed Zoiss, president, Harris Electronic Systems. "Harris has helped keep aviators safe from emerging threats for more than 18 years, and we remain firmly committed to supporting their critical missions."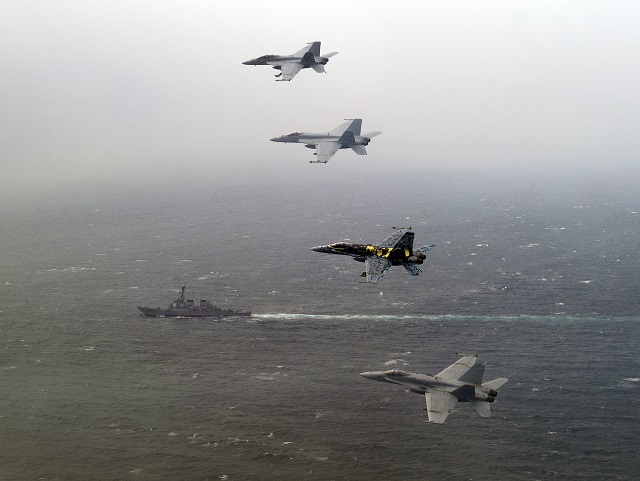 ARABIAN GULF (Feb. 25, 2012) From top; an F/A-18F Super Hornet assigned to Strike Fighter Squadron (VFA) 22, flown by Lt. Cmdr. Warren Tomlinson and Lt. j.g. Josh Raymond, an F/A-18E Super Hornet assigned to Strike Fighter Squadron (VFA) 81 flown by Lt. Daniel Solfelt, an F/A-18C Hornet assigned to Strike Fighter Squadron (VFA) 113, flown by Cmdr. Craig Sicola, and an F/A-18C Hornet assigned to Strike Fighter Squadron (VFA) 25 flown by Lt. Taylor Hesse, fly over the Arleigh Burke-class guided missile destroyer USS John Paul Jones during a mission flown from the Nimitz-class aircraft carrier USS Carl Vinson (CVN 70). Carl Vinson and CVW 17 are deployed to the U.S. 5th Fleet area of responsibility. (U.S. Navy photo by Mass Communication Specialist 2nd Class James R. Evans/Released)
The AN/ALQ-214(V)4/5 is an electronic jammer component of the integrated defensive electronic counter measures system (IDECM), which comes to the Navy from a joint venture of Exelis and BAE Systems. It protects Navy fighter-bombers from radar-guided surface-to-air and air-to-air missiles by jamming the missile guidance systems.

This effort also includes the repair of test assets and field support for the AN/ALQ-214(V)4/5. Exelis is a wholly owned subsidiary of Harris Corp. in Melbourne, Fla.

The ALQ-214 component of the IDECM EW system has been delivered to the Navy as well as to the Royal Australian Air Force for contemporary versions of the Boeing F/A-18 fighter-bomber. The system blends sensitive receivers and active countermeasures to form an electronic shield around the aircraft. The RF countermeasure system engages incoming missiles autonomously with a series of measures designed to protect the aircraft from detection.

The AN/ALQ-214(V)4 a smaller and lighter version of its predecessors, and has an open-architecture design that is ready for integration on several different kinds of aircraft.

The system is designed to counter radar-guided anti-aircraft missiles with electronic countermeasures (ECM) techniques that deny, disrupt, delay, and degrade the enemy missile launch and engagement sequence. The system identifies, ranks, and counters incoming missiles, and displays engagements to the flight crew for situational awareness.