a
Naval Forces News - Russia
Renewed Air Wing of Russia's Aircraft Carrier Admiral Kuznetsov to Start Qualification this Summer

The renewed air wing of Russia's Project 11435 aircraft carrier Admiral Kuznetsov will start undergoing trials after July 1, Russian Defense Minister Sergei Shoigu said during a conference call on Wednesday. "By July 1, 2016, the ship should be ready for the trials of planes and helicopters that will be based on it," Shoigu said.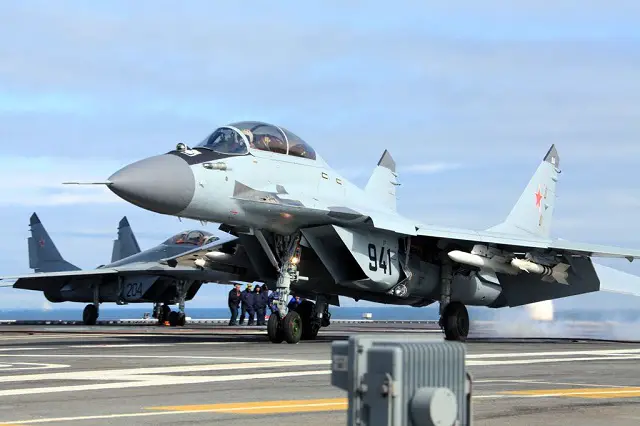 The MiG-29K is a naval variant of the MiG-29 Fulcrum fighter jet. Picture: Mig
According to the defense minister, "the preparation [of the aircraft carrier] for the fulfillment of combat missions is an important issue."

It was reported earlier that the aircraft carrier Admiral Kuznetsov was staying at the 35th Shipyard in Murmansk in northwest Russia to restore its technical readiness.

As a source in the Russian Navy told TASS, the ship's ammunition compartments are undergoing upgrade to store new types of air-launched munitions.

A military and diplomatic source told TASS in early April that the aircraft carrier Admiral Kuznetsov would head for the eastern part of the Mediterranean Sea in autumn and its air wing would include new Mikoyan MiG-29K/KUB (NATO reporting name: Fulcrum-D) multipurpose shipborne fighter jets that had not been deployed onboard the vessel on a permanent basis.

© Copyright 2016 TASS. All rights reserved. This material may not be published, broadcast, rewritten or redistributed.