---
According to information published by Tass on April 29, 2021, Russia' Sredne-Nevsky Shipyard said it had launched the Petr Ilyichev Alexandrite-class minesweeper of project 12700.
Follow Navy Recognition on Google News at this link
---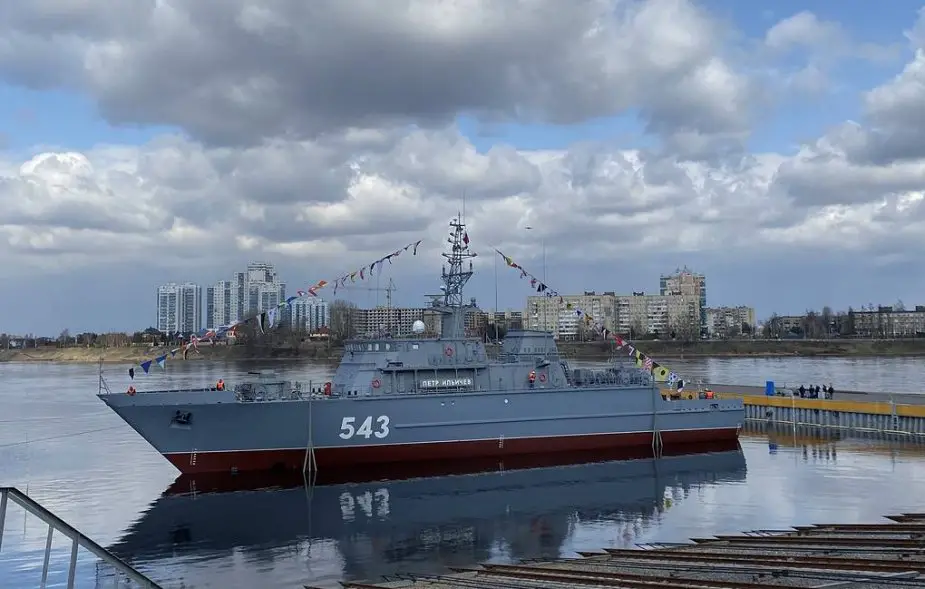 Project 12700 Alexandrite-class minesweeper Pyotr Ilyichev (Picture source: Tass)
---
The minesweeper left the slipway in January 2021. The shipyard installed the superstructure, the mast, antennas and general systems.
The trial team is preparing the warship for mooring trials. The Petr Ilyichev is join the Navy in late 2021.
The minesweeper was laid in July 2018. It is the fifth ship of the project built by the shipyard. The Alexander Obukhov, the Ivan Antonov, the Vladimir Yemelyanov, and the Yakov Balyaev have been handed over to the customer. The shipyard is building the Georgy Kurbatov, the Petr Ilyichev, the Anatoly Shlemov, and the Lev Chernavin.
The Alexander Obukhov operates in the Baltic fleet. The Ivan Antonov and the Vladimir Yemelyanov serve in the Black Sea fleet. The Yakov Balyaev joined the Pacific fleet in late 2020.
The crew of the Petr Ilyichev completed training in the Navy center.
Minesweepers of project 12700 have the biggest fiberglass hull in the world. It is highly durable against steel hulls and ensures better survivability. The service life of monolith fiberglass hull is longer than that of low-magnetic steel and the weight of the hull is considerably lower. The displacement is close to 900 tons, the length is over 60 meters and the width is 10 meters. The speed is 16.5 knots. The crew comprises 44 men. The ship can operate various sweeps and remotely guided and unmanned underwater craft.
The propulsion of Project 12700 consists of two M-503M1 diesel engines, two rudder propellers with nozzles, and two transverse thrusters. The ship is armed with one 30mm automatic cannon AK-306 SAM, 9K38 Igla short-range surface-to-air missile (SAM) systems, an MTPU 14.5mm marine pedestal machine-gun mount, as well as UDM, MTPK and PMR series of mines.
---
© Copyright 2021 TASS Navy Recognition. All rights reserved. This material may not be published, broadcast, rewritten or redistributed.
---