---
According to the Twitter account of Mahmoud Gamal on April 30, 2021, the Egyptian Navy's first Meko A200EN frigate will be launched into the water next week, while the second & third frigates will be inaugurated before the end of this year.
Follow Navy Recognition on Google News at this link
---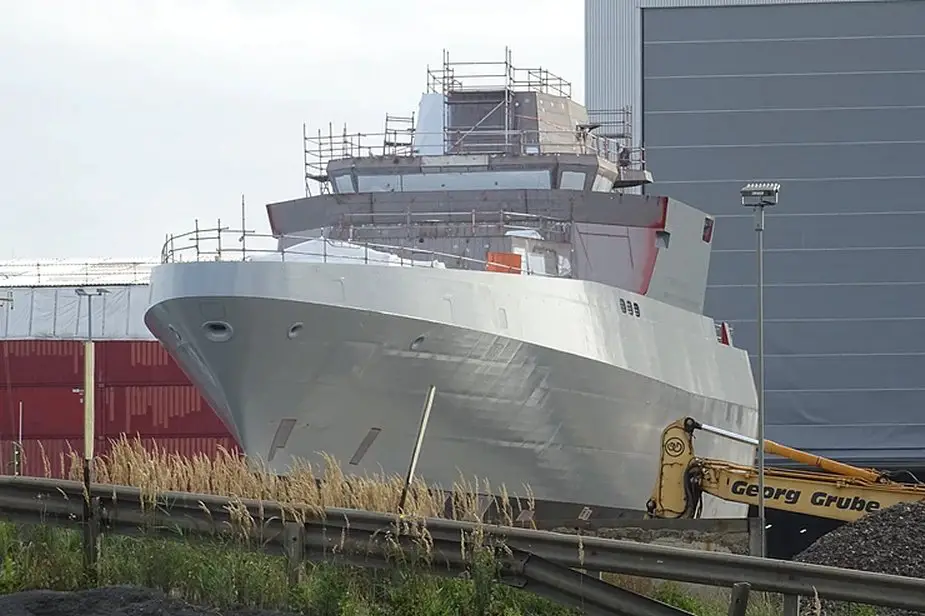 MEKO A-200 Frigate in Germany (Picture source: Weser maritime news)
---
The MEKO 200 is a frigate design by the Blohm + Voss shipyard of Germany, as part of the MEKO family of warships.
The MEKO A-200 Frigate follows the MEKO 200 series general purpose frigates from the ThyssenKrupp stable. A fighting ship capable of full 4-dimensional warfare (AAW, ASW, and ASuW, BCW), the MEKO A-200 Frigate is also designed for sustained operations across the full spectrum of general missions and tasks: patrol and interdiction, support of special force operations, SAR and humanitarian operations.
The MEKO A-200 Frigate features the revolutionary CODAG-WARP (Water jet and Refined Propellers) propulsion system: two CPP propeller shafts driven by cross-connectable diesel engines plus a center-line gas turbine-driven water jet, combining the power of each drive in the water without the need of a combining gearbox.
The MEKO A-200 Frigate has greatly reduced radar, IR, acoustic and magnetic signatures to hide and stay hidden: The X-Form shell design; extensive bulwark screening of exposed equipment; flush-closing shell doors, and RCSnet screening of all shell openings, give the vessel very low radar cross-section.
---