---
According to a tweet published by the U.S. Department of Defense on November 4, 2021, Nimitz-class USS Carl Vinson conducts a fueling-at-sea with Arleigh Burke-class destroyer USS Stockdale.
Follow Navy Recognition on Google News at this link
---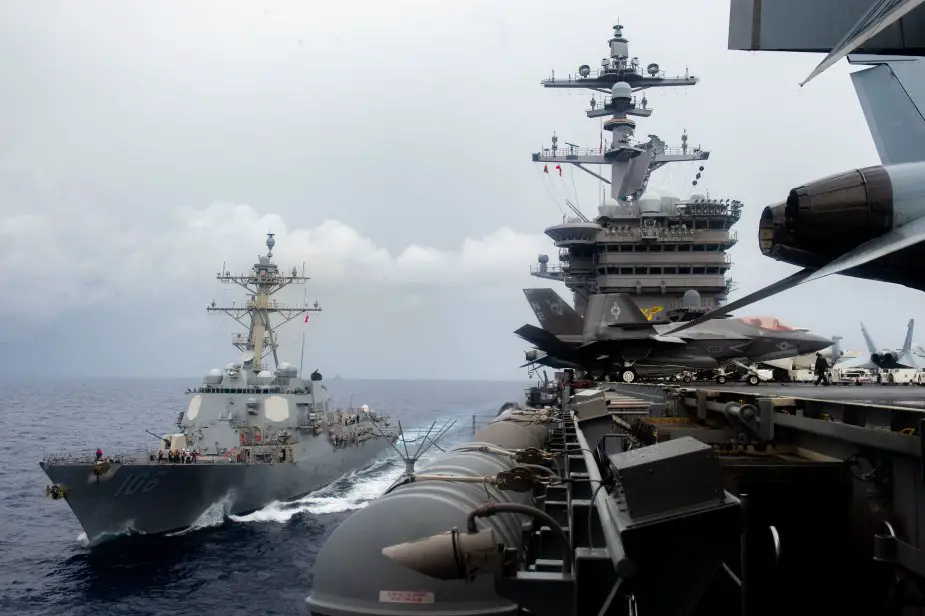 USS Stockdale (left) and Nimitz-class USS Carl Vinson (Picture source: U.S. Department of Defense)
---
USS Stockdale (DDG-106) is an Arleigh Burke-class guided-missile destroyer in the United States Navy. The third U.S. Navy ship of that name, Stockdale is named after Vice Admiral James Bond Stockdale (1923–2005) and is the 56th destroyer in her class.
She was authorized on 13 September 2002 and was built by Bath Iron Works. Stockdale was christened 10 May 2008 by Admiral Stockdale's widow, Sybil, and delivered to the Navy on 30 September 2008. USS Stockdale was commissioned on 18 April 2009 at Port Hueneme.
The Arleigh Burke-class of guided-missile destroyers (DDGs) is a United States Navy class of destroyer built around the Aegis Combat System and the SPY-1D multifunction passive electronically scanned array radar.
With an overall length of 505 to 509.5 feet (153.9 to 155.3 m), displacement ranging from 8,230 to 9,700 tons, and weaponry including over 90 missiles, the Arleigh Burke-class are larger and more heavily armed than most previous ships classified as guided missile cruisers.
---