---
According to a press release published by Naval Group on November 25, 2021, INS Vela, the fourth P75 Kalvari-class submarine, was commissioned within the Indian Navy in presence of Mazagon Dock Shipbuilders Limited (MDL) Chairman & Managing Director, Vice Admiral Narayan Prasad (Retd.) and several other dignitaries.
Follow Navy Recognition on Google News at this link
---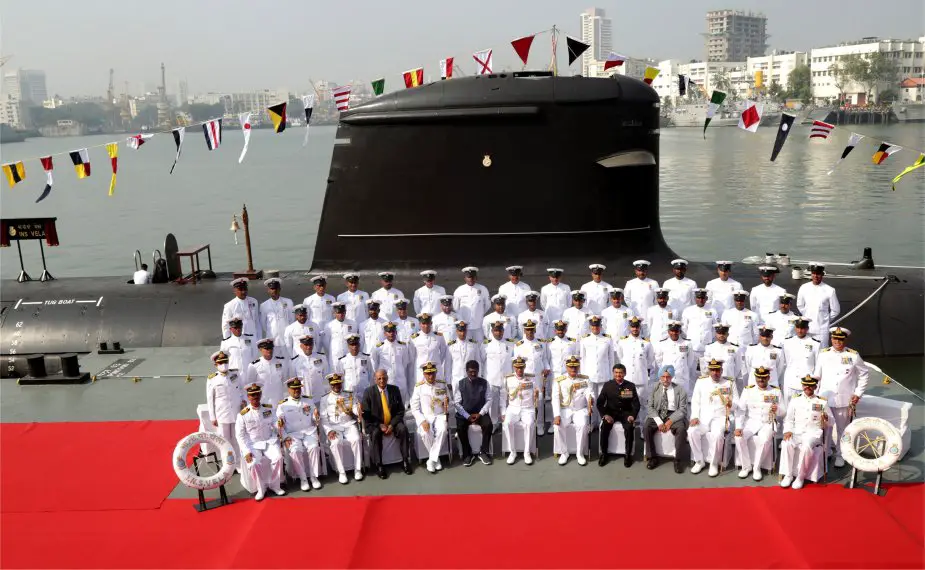 Kalvari-class submarine INS Vela (Picture source: Government of India)
---
INS Vela is built by Indian shipyard MDL based on the Naval Group Scorpene® design and is the second Kalvari-class submarine to be commissioned in 2021.
Launched on 6 May 2019, INS Vela successfully completed all major sea trials including weapon and sensor trials and was delivered to the Indian Navy on 9 November 2021. She joins INS Kalvari, Khanderi, and Karanj which were commissioned respectively in December 2017, September 2019 and March 2021.
The commissioning of INS Vela highlights the success of the indigenous submarines construction program of the Government of India. This submarine has been completely built by Mazagon Dock Shipbuilders Limited (MDL) taking advantage of the successful technology transfer from Naval Group during the construction and trials of the first three boats.
Six submarines of the P75 program have been fitted with a number of equipment, built-in India by qualified and highly trained industrial Micro, Small & Medium Enterprises (MSMEs) which form the sound base of the submarine building ecosystem of India.
The rise in competencies that the Indian industry and shipyard achieved during the past decade is very inspiring. This precious and high-value expertise and skillsets built around the program needs to be preserved, nurtured, and improved with ongoing and future contracts so that the Indian naval defence industry can seamlessly cater to military products of similar or advanced nature for India and also for the world.
The Scorpene® is a 2000 tons conventional-propulsion submarine designed and developed by Naval Group for all types of mission, such as surface vessel warfare, anti-submarine warfare, long-range strikes, special operations, or intelligence gathering.
Extremely stealthy and fast, it has a level of operating automation that allows a limited number of crew, which reduces its operating costs significantly. Its combat edge is highlighted by the fact that it has 6 weapon launching tubes, 18 weapons (torpedoes, missiles, mines).
The submarines can carry 18 torpedoes and missiles or 30 mines. It is equipped with six bow-located 21in torpedo tubes providing salvo launch capability. Positive discharge launching is by an air turbine pump. She can launch anti-ship and anti-submarine torpedoes, as well as anti-surface missiles. The handling and loading of weapons are automated.
---