---
According to a tweet published by the JMSDF on July 19, 2022, the training ship JS Kashima and the Hatakaze class destroyer JS Shimakaze conducted a goodwill exercise with the Colombian Almirante Padilla class frigates Arc Antioquia and ARC Caldas in the Caribbean Sea to promote mutual understanding. This is the first time the JMSDF has exercised with Colombia Navy.
Follow Navy Recognition on Google News at this link
---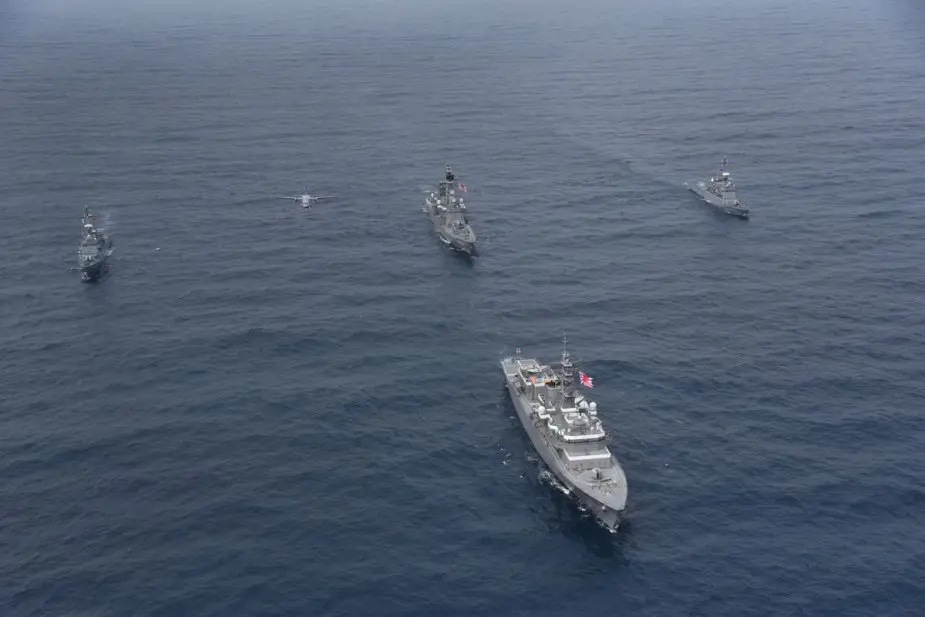 Almirante Padilla class frigate Antioquia, the training ship JS Shimkaze, the destroyer JS Kashima and the Colombian frigate Caldas. (Picture source: JMSDF)
---
JS Shimakaze (DDG-172) is the second ship of the Hatakaze-class guided missile destroyers built for the Japan Maritime Self-Defense Force (JMSDF). She was launched on 30 January 1987 and commissioned on 23 March 1988.
The Hatakaze class of guided missile destroyers is a third-generation class of vessels in service with the Japan Maritime Self-Defense Force (JMSDF). They were the first of the JMSDF's ships to have gas-turbine propulsion.
Hatakaze destroyers operate the OYQ-4-1 type tactical control system. Its weapon systems include the Standard missile surface-to-air missile, anti-submarine rockets, the RGM-84 Harpoon anti-ship missile, two Mark 15 20 mm CIWS gun mounts, two torpedo mounts in a triple tube configuration, and two 5 inch/54 caliber Mark 42 rapid-fire guns.
About the Colombian Amirante Padilla class frigates
The Almirante Padilla-class frigates are a series of frigates operated by the Colombian Navy. The designation of this class is Type FS 1500 and there are four ships in service.
The ships were built by Howaldtswerke-Deutsche Werft (HDW) at Kiel, West Germany in the 1980s, with the first vessel commissioning in 1983 and the last in 1984.
The Almirante Padilla class is powered by a CODAD propulsion system. The frigates were powered by four MTU 20V 1163 TB92 diesel engines driving two shafts and developing maximum 17,400 kilowatts (23,400 hp) and 16,000 kW (21,000 hp) sustained turning two controllable pitch propellers.
These were the first ships to mount these engines. This gives a maximum speed of 27 knots (50 km/h; 31 mph), and a range of 7,000 nautical miles (13,000 km; 8,100 mi) at 14 knots (26 km/h; 16 mph).
---