---
According to a tweet published by the Indian Navy on May 26, 2022, a Talwar-class guided-missile anti-submarine stealth frigate successfully engage a low-flying target with its SAM system.
Follow Navy Recognition on Google News at this link
---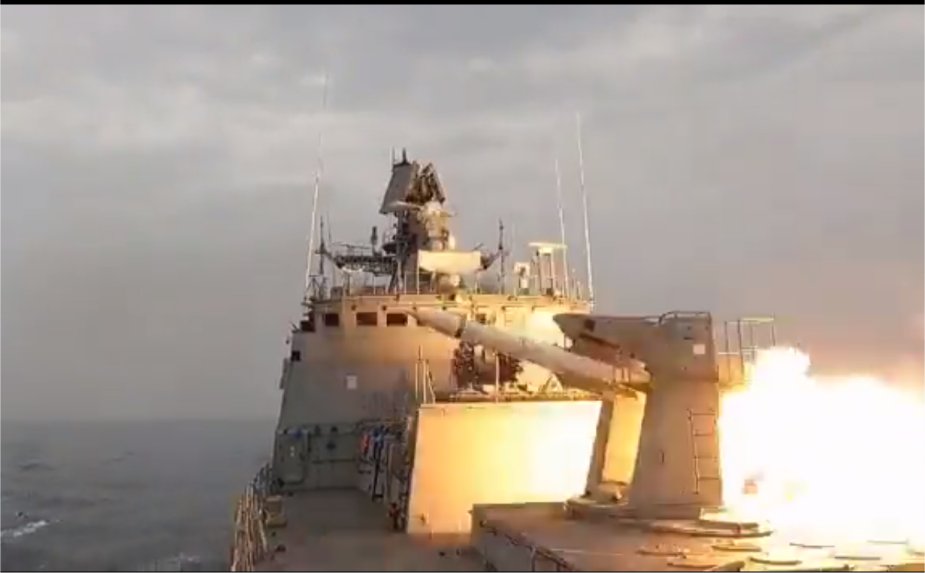 Indian Talwar-class frigate launching surface-to-air missile (Picture source: Indian Navy)
---
The Talwar-class frigates or Project 11356 are a class of stealth-guided missile frigates designed and built by Russia for the Indian Navy. The Talwar-class guided missile frigates are the improved versions of the Krivak III-class (Project 1135) frigates used by the Russian Coast Guard.
Designed by Severnoye Design Bureau, the first batch of ships were built by Baltic Shipyard and the second batch by Yantar Shipyard. The Indian Navy currently has six of these ships and 4 more are under construction including 2 in an Indian shipyard, for which Goa shipyard was selected.
The Talwar class can accommodate one Ka-28 Helix-A antisubmarine helicopter or one Ka-31 Helix-B airborne early warning helicopter which can provide over-the-horizon targeting. The vessel can also embark on the navalised variant of the indigenous HAL Dhruv.
The Shtil-1 SAM system with a 3S-90 missile launcher is fitted forward of the bridge and is armed with the 9M317 (SA-N-12 "Grizzly", navalised SA-17) missile. 24 missiles are carried in a magazine located below the deck. Guidance and target illumination for these missiles is provided by four MR-90 Orekh (NATO: Front Dome) radars, which are connected to a command and control post.
Close-in Weapon System
For the CIWS role, two Kashtan air-defense gun and missile systems are used. Each system consists of two GSh-30k (AO-18K) six-barreled 30 mm Gatling guns, fed by a link-less mechanism, and two SA-N-11 (navalised variant of the 9M311, SA-19) SAM clusters.
The system also includes a storing and reloading system to keep 32 SAMs in container launchers in the vessel's under-deck spaces. The follow-on order ships Teg, Tarkash, and Trikand were fitted with the AK-630 system, replacing the Kashtan system in the earlier ships.
---