a
Naval Industry News - USA
Head of Class Joint High Speed Vessel USNS Spearhead (JHSV 1) Completes Acceptance Trials
First-in-class Joint High Speed Vessel USNS Spearhead (JHSV 1), the high-speed catamaran transport ship under construction at Austal USA in Mobile, Alabama, successfully completed Acceptance Trials (AT) on August 17, 2012, in the Gulf of Mexico.

To achieve this milestone, the Navy conducted comprehensive tests which demonstrated the successful performance of the ship's major systems and equipment to include the propulsion plant, ship handling and auxiliary systems.

Craig Perciavalle, Austal USA Senior Vice President of Operations, had this to say the day after Acceptance Trials were completed, "I consider it a major accomplishment to be authorized by the Navy to hang a broom from the mast, a Navy tradition representing a 'clean sweep' of trial events, after completing our first Acceptance Trials as prime contractor. Congratulations to all of the Austal employees who played a role in reaching this major milestone. The JHSV Team represented Austal extremely well."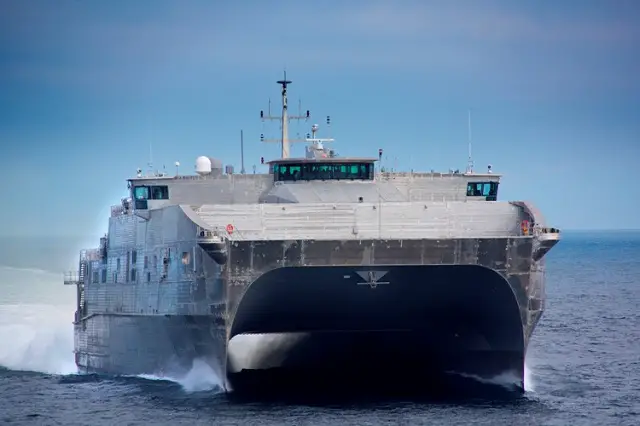 Spearhead class Joint High Speed Vessel during sea trials
(Picture: Austal)
These trials are the last significant milestone before delivery of the ship to the Navy which is expected over the coming months. The ship was presented to the Navy's Board of Inspection and Survey (INSURV) with high levels of completion, according to the Navy.
Brian Leathers, Austal USA's Interim President and Chief Financial Officer commented: "First-in-class ships are always a challenge but we are honored to have been able to present a complete, functional vessel to INSURV and are looking forward to the delivery of this first-in-class ship to the Navy soon. Austal is proud to have played such an integral role in US Naval history by being selected to produce this new class of vessels to support America's national security needs."
USNS Spearhead (JHSV 1) will soon be followed by Choctaw County (JHSV 2) which will be christened on September 15. Two more JHSVs are under construction at Austal's Mobile, Alabama shipyard. "Austal is eager to get these vessels out into the fleet doing the job they were built to do." Leathers said. "They will be a great addition to the mobility of the Navy Marine Corps team as we pivot to the Pacific Basin."
Austal USA is a full-service shipyard offering design, construction and high-speed vessel service and repair. As Austal USA continues to expand its service and repair capabilities, the company is well positioned for new business with engineering, test and trials capabilities, and a new waterfront facility all co-located on the Mobile Bay waterfront.
Austal is currently under contract with the US Navy to build nine 103-meter JHSVs under a 10-ship, $1.6 billion contract and five 127-meter
Independence-variant Littoral Combat Ship (LCS)
class vessels, four of which are a part of a 10-ship, $3.5 billion contract.
For the LCS and JHSV programs, Austal, as prime contractor, is teamed with General Dynamics Advanced Information Systems, a business unit of General Dynamics. As the ship systems integrator, General Dynamics is responsible for the design, integration and testing of the ship's electronic systems including the combat system, networks, and seaframe control. General Dynamics' proven open architecture approach allows for affordable and efficient capability growth as technologies develop.
Austal has grown into one of southern Alabama's largest employers with over 3,000 employees on staff hailing from the Mobile Area, Mississippi, Florida, and beyond. Under the current workload, Austal expects to employ over 4,000 Americans by the end of 2013, and will be ready to help the US Navy meet any national security contingency ahead.