a
Naval Defense Industry News - USA
Boeing & Liquid Robotics Demonstrating their SHARCs Wave & Solar Powered USV/UUV
A joint Boeing Defense and Liquid Robotics team recently demonstrated the (SHARCs, or Sensor Hosting Autonomous Remote Craft) wave and solar powered autonomous craft. The SHARCs is based on Liquid Robotics' Wave Glider SV3, a unique wave and solar propelled 2 parts system (one on the surface, the other under water).
Video showing how the how the SHARCs maneuver through the harsh ocean waters to provide a seafloor-to-space connection. Video: Boeing
SHARCs are used for data collection, surveillance and acoustic monitoring. In September, Boeing and Liquid Robotics signed a multi-year agreement to enhance the unmanned marine vessel's capabilities. To see the SHARCs in action, Boeing Defense, Space & Security President and CEO Chris Chadwick and Boeing Military Aircraft leaders recently travelled to the crystal clear waters in Kamuela, Hawaii near Liquid Robotic's engineering test and evaluation center for a demonstration.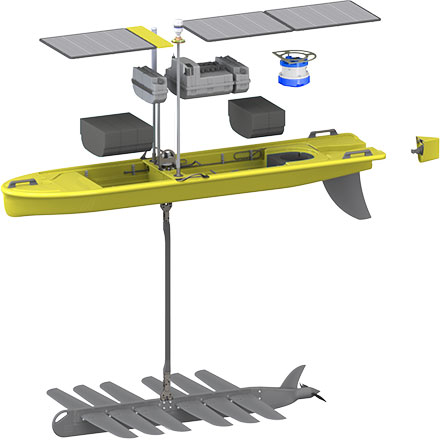 The Wave Glider is a unique wave and solar propelled 2 parts system (one on the surface, the other under water). Image: Liquid Robotics
"The Navy and international customers see the value of SHARC in terms of what it can do from an information and sensor perspective to give them better situational awareness under and on top of the water," Chadwick said.

SHARCs can operate in a fleet to connect with other SHARCs, on land data centers and a variety of Boeing marine and aerial assets. They can be at sea for up to a year without a manned crew or servicing—which is mostly removing barnacles from its sensors.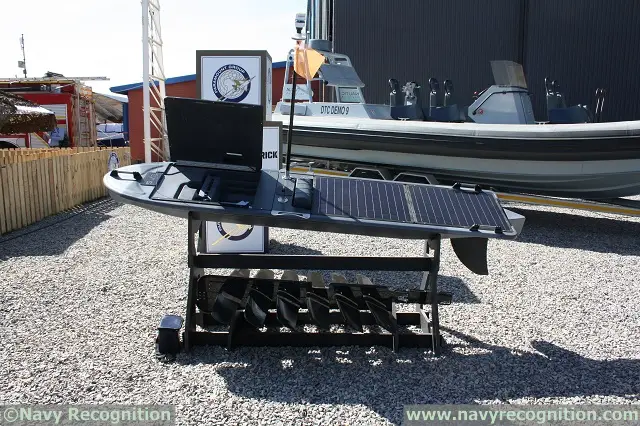 Liquid Robotics was showcasing the SHARCs (military version of the Wave Glider SV3 UUV) at AAD 2014 in South Africa.
Defense Applications

During AAD 2014 (defense show in South Africa which
Navy Recognition
was covering)
,
a Liquid Robotics representative told us that the Wave Glider SV3 is already in use with many navies around the world including the U.S. Navy (which has around 30 units), the Royal Australian Navy (which operates 6 of these unmanned vehicles), the Royal Norwegian Navy and even NATO.
The U.S. Navy deploys the Wave Glider SV3 for a number of missions including:
» Information Surveillance Reconnaissance (ISR)
» Underwater Terrain Mapping
» Anti-submarine Warfare (ASW - The system is then fitted with a towed array)
» Underwater relay
» Data link relay
You can read our
AAD 2014 article at this link.