a
Naval Industry News - France, Poland
After Offering the GOWIND 1000 to Poland, DCNS is now Proposing the Larger GOWIND 2500
While DCNS was showcasing a new
GOWIND 1000 OPV design last year at Balt Military Expo
, French company DCNS is now proposing the much larger GOWIND 2500 at MSPO 2015, the International Defence Industry Exhibition in Poland which takes place in Kielce, Poland, from the 1 to 4 September 2015.
GOWIND 2500 scale model on the DCNS stand at MSPO 2015
DCNS is proposing to PGZ (Polska Grupa Zbrojeniowa) the construction and long-term maintenance in their shipyards of the future surface vessels for Poland based on the new successful GOWIND 2500 design including a combat system that could be jointly provided with CTM, a PGZ's company. DCNS has a long tradition of technology transfer and has consistently demonstrated that it can be a key partner for navies, giving its customers full control of their sovereignty.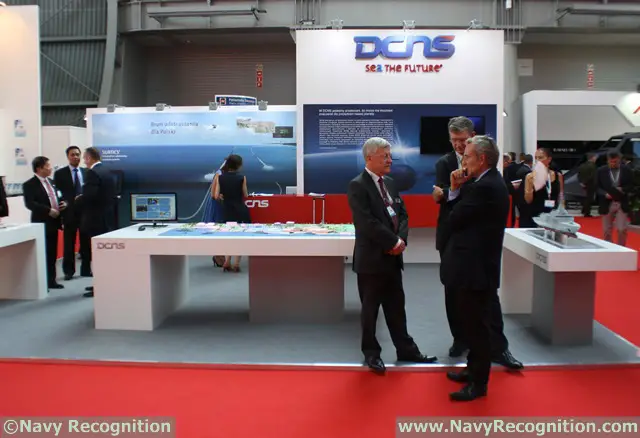 DCNS stand at MSPO 2015
Poland has expressed a future need for six Offshore Patrol Vessels (OPV) in two configurations: a mine warfare configuration and a coastal defence variant (three vessels in each variant) with significant combat capabilities in all four domains (anti-air, anti-surface, anti-submarine and electronic warfare).
This is the case of the GOWIND 2500 which has already chosen by the
Royal Malaysian Navy
in 2013 (6 units) and by the Egyptian Navy in 2014 (4 units).
While the Polish Government request for information (RFI) was issued in July 2013, request for proposal (RFP) should be issued sometime soon.
Poland recently launched the Slazak OPV
, its first naval vessel launch in years. It is expected that many of the systems onboard Gawron will be procured for the six new OPVs as well (such as the SMART-S Mk2 radar and CAPTAS-2 sonar by Thales). On the other hand, effectors are for now difficult to predict. Let's just say that DCNS is able to integrate any weapon system as requested by the customer: While Malaysia selected
Kongsberg's NSM
antiship missiles for its GOWINDs (a missile already deployed by the Polish Navy in the form of coastal batteries), Egypt opted for MBDA's Exocet MM40 Block III.