a
Naval Industry News - Russia
Russia's 2nd Project 22350 Gorshkov-class Frigate Adm. Kasatonov to Start Sea Trials this Summer
The trials of the first serial-produced Project 22350 frigate Admiral Kasatonov will start in the summer of 2017, Former Commander of Russia's Black Sea Fleet Admiral Igor Kasatonov said in an interview with RIA Novosti news agency.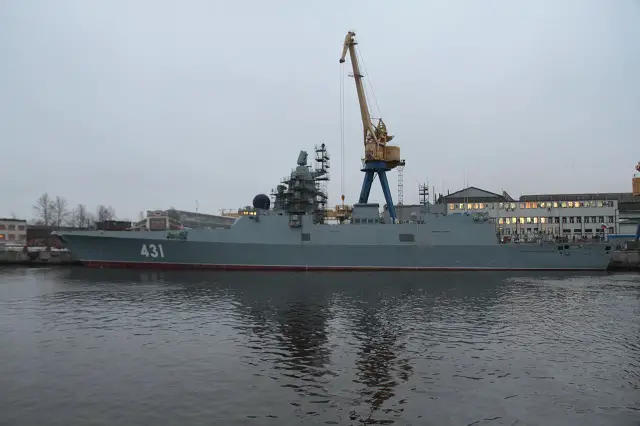 Admiral Kasatonov, the second Project 22350 Frigate of the Russia Navy at fitting out stage in St Petersburg (picture from 12/2016). Picture: Alexey Akentev
"The second Project 22350 frigate Admiral Kasatonov will start undergoing trials in the summer of 2017. The ship is planned to be delivered to the Russian Navy in late 2017 - early 2018," Kasatonov said.

As President of Russia's United Shipbuilding Corporation Alexei Rakhmanov told TASS earlier, the Project 22350 lead frigate Admiral Gorshkov will be delivered to the Navy in 2017. A decision on the delivery time has already been made, he added.

The Project 22350 frigate is designed to fight surface ships and submarines and repel air attacks both independently and within a formation.

The Project 22350 frigate is flush-decked and has three-island superstructures, a tower mast and a steel tube. The ship has a lower radar signature, which makes it virtually invisible for the enemy's radars.

The Project 22350 frigate has a displacement of 4,550 tons. The capacity of its diesel-gas-turbine power plant is 65,000 hp.

The ship is armed with the new A-192 130mm artillery gun and anti-ship, antisubmarine and air defense missile systems, including the Kalibr (NATO reporting name: SS-N-27 Sizzler) and Redut-Poliment complexes. The ship is capable of carrying the Kamov Ka-27 (Helix) helicopter or its version.

Link to Admiral Gorshkov (Project 22350) Frigate technical datasheet


© Copyright 2017 TASS. All rights reserved. This material may not be published, broadcast, rewritten or redistributed.