a
Naval Forces News - India
Chief of Indian Navy Reviews Progress of Indigenous Aircraft Carrier Vikrant
Admiral Sunil Lanba, PVSM, AVSM, ADC, Chief of the Naval Staff (CNS) visited Kochi on 12 October 2017 to review the progress of construction of the Indigenous Aircraft Carrier (IAC)- "Vikrant" at the Cochin Shipyard Ltd. (CSL), Kochi.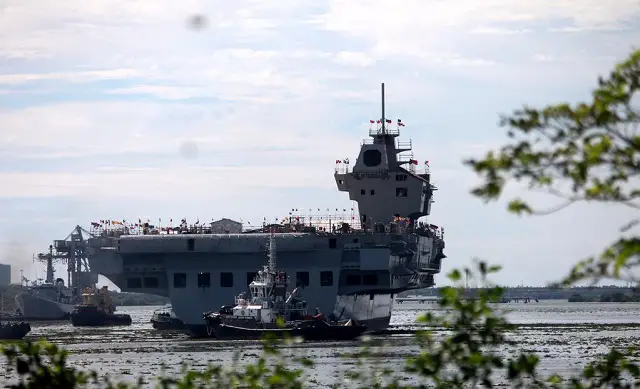 India's first indigenous aircraft carrier, INS Vikrant. File Picture: Indian Navy

At the shipyard, the CNS accompanied by the FOC-in-C (South) and other senior officials of the Indian Navy took a walk around of the ship to get a firsthand appreciation of the progress of work onboard wherein he was briefed on the various construction activities. Later, the CNS had discussions with Shri Madhu S Nair, Chairman and Managing Director, CSL.

Keel of the IAC was laid in February 2009 and the ship was launched in August 2013. Work on the hull structure is nearing completion and outfitting activities on various equipment and systems are progressing at present.

India's minister of defense announced in December 2015 that the indigenous aircraft carrier INS Vikrant will be delivered to the Indian Navy in December 2018. The launch of the 37,500-tonnes, 260 metres long and 60 metres wide vessel was behind schedule by three years. Local media reported in May 2017 that the procurement delays has been resolved and the carrier's fitting-out was 62% complete, with trials of the auxiliary systems scheduled by late 2017.

Maximum speed of the ship is announced at 28 knots, the ship reported range is 7,500 nautical miles at a speed of 18 knots. INS Vikrant is set to receive a large crew complement composed of 160 officers and 1,400 sailors. The aircraft carrier will be able to accommodate 30 fighters and helicopters, including Mig-29K fighters and Ka-31 helicopters.