a
Naval Defense News - USA
US Navy Conducted Missile Defense Test with Raytheon AN/SPY-6(V) AMDR
The U.S. Navy successfully conducted a simultaneous Air and Ballistic Missile Defense (BMD) flight test with the AN/SPY-6(V) Air and Missile Defense Radar (AMDR) off the west coast of Hawaii, Sept. 7.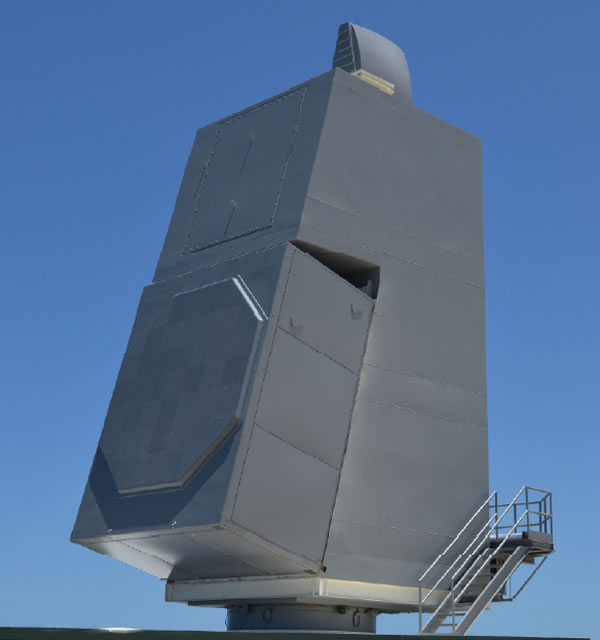 AN/SPY-6(V) Air and Missile Defense Radar array at the U.S. Navy's Pacific Missile Range Facility in Hawaii. Picture: Raytheon
At 1:38 p.m., Hawaii Standard Time, (7:38 p.m. Eastern Daylight Time) a short-range ballistic missile target and multiple air-to-surface cruise missile targets were simultaneously launched. AN/SPY-6(V) AMDR searched for, detected and maintained track on all targets throughout the trajectories. The flight test, designated Vigilant Talon, is the third in a series of ballistic missile defense flight tests for the AN/SPY-6(V) AMDR.

"This radar was specifically designed to handle ballistic missiles and cruise missiles simultaneously, and it's doing just that," said Capt. Seiko Okano, major program manager for Above Water Sensors, Program Executive Office (PEO) Integrated Warfare Systems (IWS). "AMDR is successfully demonstrating performance in a series of increasingly difficult test events and is on track to deliver advanced capability to the Navy's first Flight III Destroyer."

Based on preliminary data, the test successfully met its primary objectives against a complex short range ballistic missile and multiple air-to-surface cruise missile simultaneous targets. Program officials will continue to evaluate system performance based upon telemetry and other data obtained during the test.

The culmination of over a decade of Navy investment in advanced radar technology, AN/SPY-6(V) AMDR is being designed for the DDG 51 Flight III destroyer to provide the U.S. Navy with state-of-the-art technology for Integrated Air and Missile Defense.

According to Raytheon, AN/SPY-6(V) provides greater capability – in range, sensitivity and discrimination accuracy – than currently deployed radars, increasing battlespace, situational awareness and reaction time to effectively counter current and future threats. It is the first scalable radar, built with Radar Modular Assemblies - radar building blocks. Each RMA, roughly 2' x 2' x 2' in size, is a standalone radar that can be grouped to build any size radar aperture, from a single RMA to configurations larger than currently fielded radars.

The U.S. Navy's new Enterprise Air Surveillance Radar leverages the highly-scalable design and mature technologies of AN/SPY-6 in a scaled nine-RMA configuration to meet the mission requirements of carriers and amphibious ships. The commonality – in both hardware and software – with AN/SPY-6 offers a host of advantages, including maintenance; training; logistics; and lifecycle support.