a
Naval Forces News - UK
HMS Ambush officially joins the Royal Navy fleet following a ceremony
HMS Ambush has officially joined the Royal Navy fleet following a ceremony. The nuclear-powered submarine arrived at her home port of HM Naval Base Clyde in September last year where she has been undergoing sea trials before entering operational service later this year.

HMS Ambush was launched in January 2011 at the BAE Systems shipyard in Barrow-in-Furness, Cumbria. It is the second in a planned class of seven submarines and she follows sister vessel HMS Astute to HMNB Clyde, in Scotland, where the first in class has been based since leaving BAE Systems in 2009.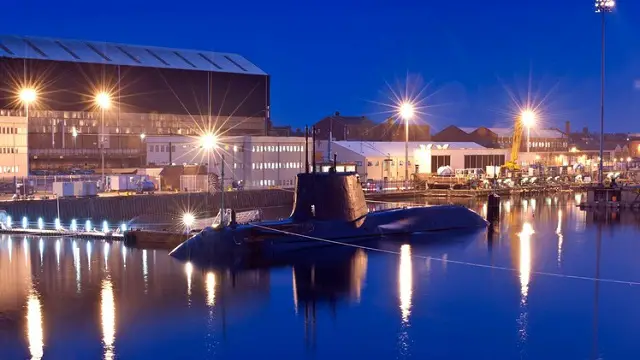 The second Astute class submarine Ambush
(Photo: BAE Systems)

The Astute class boasts a range of world class capabilities inside each 97 metre long hull. Powered by a Rolls-Royce nuclear propulsion system, the reactor never needs refuelling. The sonar system has the processing power of 2,000 laptops and can track ships 3,000 miles away. They are armed with both Tomahawk land attack missiles and Spearfish torpedoes and her missiles have a target range of 1,200 miles with accuracy measured in metres.