a
Naval Forces News - Iran
Iranian Navy Commander: More Jamaran Destroyers will be built to boost Iran naval power
Iranian Navy Commander Rear Admiral Habibollah Sayyari said the country has started construction of several Jamaran destroyers to further boost its naval power. "In a bid to increase the Navy's level of preparedness, more Jamaran (class) destroyers are under construction," Sayyari said.

Iranian defense ministry officials had said earlier that the third generation of the home-made vessel, Jamaran-3 destroyer, will come into operation by the end of the current Iranian year (March 21, 2013 - March 20, 2014).

Iran's first home-made destroyer, Jamaran, was launched in late February 2010. The country's second Mowdge class destroyer was launched in March.

Elsewhere, Sayyari stressed his forces' preparedness to confront threats against Iran's interests, and stated, "With regard to defending water borders and the country's interests and resources in the seas, such as ensuring security of the shipping lines, this force (navy) enjoys the needed preparedness to confront any type of threat."

He further announced that wider presence in the high seas is top on the Navy's agenda to protect Iran's interests.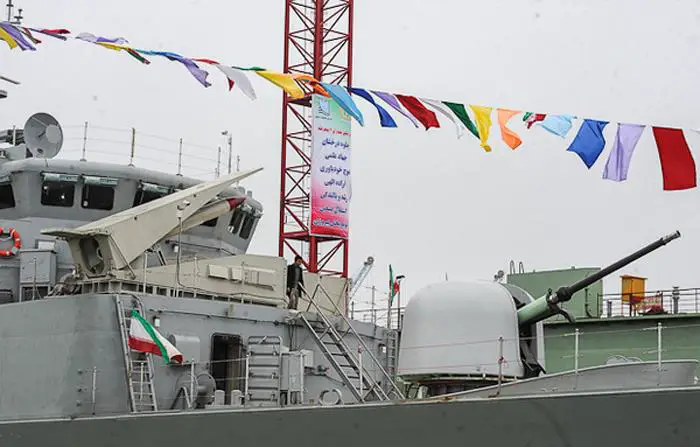 Detailed view of Jamaran 2 Frigate's main gun and Fajr SAM launcher
Picutre: Internet
Jamaran 2 Frigate speculated specifications are the following:
Length: 94 m
Width: 11 m
Draught: 3.3 m
Displacement: 1,400 tons
Maximum speed: 30 knots, équipage entre 120 et 140 personnes.
Crew: Approx. 130 sailors

The following weapon systems appear to be fitted onboard:
1x Fajr-27 76mm main gun
4x Fajr (locally made SM-1) Surface to air missile launchers
4x Noor (C802) Anti-ship missiles
2x triple torpedo launchers