a
Naval Defense Industry News - Netherlands
Thales's APAR Multi Function Radar Performs Flawlessly on Danish Frigate
The first Sea Acceptance Test (SAT) of Thales's APAR multifunction radar on the new Iver Huitfeldt class frigates of the Royal Danish Navy was a success. Thanks to the excellent cooperation with the Danish Defence Acquisition and Logistics Organization, this test could be completed in one week instead of a more usual three weeks.

The test was performed with the first APAR delivered to the Royal Danish Navy, installed on HDMS Peter Willemoes.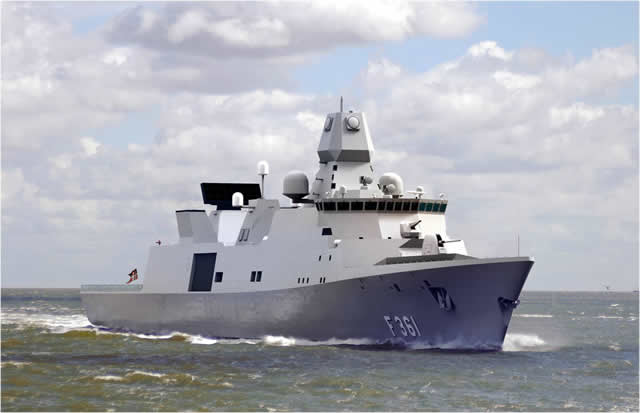 (Picture: Thales)
In December 2006, the contract was signed for the delivery of the three APAR systems for the Iver Huitfeldt class frigates. Between January 2011 and January 2012 the Factory Acceptance Tests for all three radars were performed and in 2011 and 2012 the systems were installed on the three ships of this class: HDMS Iver Huitfeldt, HSMS Peter Willemoes and HDMS Niels Juel.

Thales Nederland CEO Gerben Edelijn says: "This SAT demonstrates our capability to maintain the highest possible level of product quality over a long period of time. We are proud of the excellent relation with the Royal Danish Navy."

Following this SAT, there will be a Harbour Acceptance Test later this year to test the ship's Anti Air Warfare and Fire Control capabilities. The program is scheduled to end early 2014.

About APAR
APAR (Active Phased Array Radar) is a multi-function radar (MFR) capable of fulfilling various tasks simultaneously; automatic detection and tracking of low altitude targets (e.g. sea skimmers), detection and tracking of air targets and missile guidance support. It is designed for the terminal guidance (CW/ICWI) requirements of SM-2 and ESSM missiles. ICWI is Interrupted Continuous Wave Illumination. This feature enables a single fire control radar to control several missiles simultaneously, thereby greatly enhancing a ship's defence capabilities.

The APAR antenna consists of four arrays, each array composed of more than 3000 very small radar transmitter/receiver (T/R) elements. The combination of T/R modules in one array can generate narrow beams that can be pointed in any direction within a cone of about 140 degrees in azimuth and 85 degrees in elevation. Combined, the four arrays cover the full 360 degrees. Switching from one beam to another can be done very rapidly. The use of so many T/R modules gives this radar unique performance and high operational availability.
The inherent agility of APAR guarantees a high performance in the most adverse conditions, under severe electronic protection measures.