a
Naval Forces News - Australia
Future Royal Australian Navy LHD HMAS Canberra One Third Completed
Minister for Defence Materiel Dr Mike Kelly MP today toured the BAE Williamstown shipyard and Australia's first Amphibious Assault Ship Landing Helicopter Dock (LHD) NUSHIP Canberra. "BAE Systems Australia are the prime contractor for the LHD ships and are building the sizable superstructures, integrating the combat and communication systems, and finalising the internal fit-out of the Canberra to prepare her for sea trials," Dr Kelly said.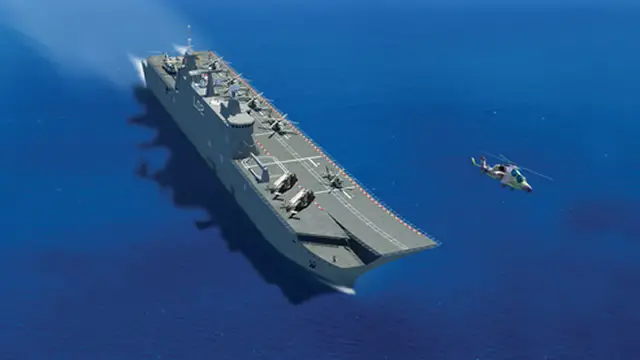 Artist Impression of HMAS Canberra LHD
(Picture: BAE Systems)
The Williamstown shipyard has a long tradition of building ships for the Royal Australian Navy, and is currently involved in both Air Warfare Destroyer and Landing Helicopter Dock shipbuilding projects.

"There is a substantial and skilled workforce here at Williamstown of approximately 900, including BAE Systems and subcontracted planners, welders, fitters, electricians, plumbers, painters and mechanics. All the trades are working steadily towards completing the first of the LHDs for delivery to Defence early next year," Dr Kelly said.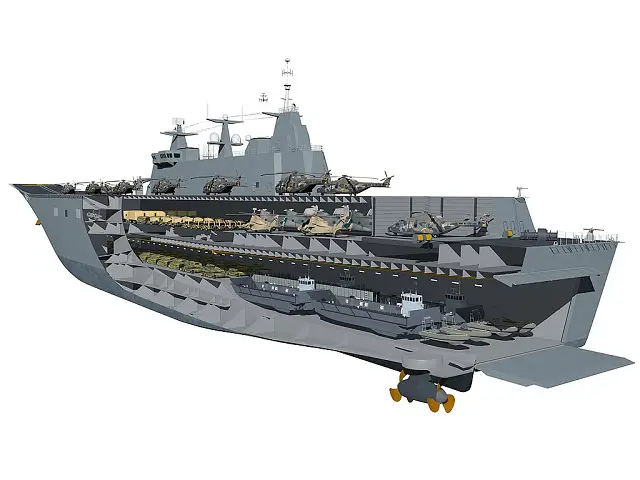 Canberra class LHD
(picture: Navantia)
"To date BAE Systems Australia has conducted more than 680,000 hours of production work in the Williamstown Shipyard on the LHD project and plan a further 1.2 million hours before it's completed."

Each ship with its crew of around 300 personnel can also carry and embark a combined arms battlegroup of more than 1100 personnel, 100 armoured vehicles and 12 helicopters, and features a 40-bed hospital.

The Canberra Class LHDs are the largest ships ever built for the Navy and will deliver a sophisticated air-land-sea amphibious capability for the Australian Defence Force.

NUSHIP Canberra is due to be accepted into Navy service in the first quarter of 2014. The hull of the second LHD was launched and named Adelaide in July 2012 and is due to arrive in Australia in early 2014 for superstructure consolidation and fit-out.

From: Australian Department of Defence