a
Naval Forces News - Canada
Names chosen for the Royal Canadian Navy's new Joint Support Ships
Names have been chosen for the Royal Canadian Navy's two new Joint Support Ships (JSS), which will be built by Vancouver Shipyards Co. Ltd. in North Vancouver, B.C. The ships will be named Her Majesty's Canadian Ship (HMCS) Queenston and HMCS Chateauguay in recognition of the significant battles of Queenston Heights and Chateauguay during the War of 1812.


Royal Canadian Navy future Joint Support Ship
(Picutre: ThyssenKrupp Marine Systems)

The announcement was made by the Honourable Rob Nicholson, P.C., Q.C., Member of Parliament for Niagara Falls and Minister of National Defence, during a ceremony in Niagara-on-the-Lake, Ont., October 25.

"The names recognize the achievements and sacrifices of those early Canadian soldiers who fought and died in these critical battles during the War of 1812," said Minister Nicholson. "The War of 1812 was a defining moment in our nation's history that contributed to shaping our identity as Canadians and ultimately our existence as a country."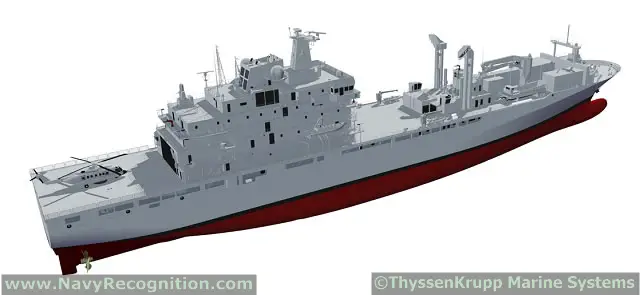 The JSS is based on based on the German Navy's Berlin Class Einsatzgruppenversorger (EGV – Task Force Support Ship)
(Picutre: ThyssenKrupp Marine Systems)

"Canada's rich military history is a source of inspiration for the men and women who currently serve in the Royal Canadian Navy," said Vice-Admiral Mark Norman, Commander Royal Canadian Navy. "The events surrounding the War of 1812 remind us of the sacrifices of soldiers and sailors who fought for their country during a pivotal moment in Canadian history."

Traditionally, the name of a class of warship is derived from the name of the first vessel in this class to be constructed. HMCS Queenston will be built first, therefore, the two JSS will be known as the Queenston-class.

These ships will provide underway replenishment capability for fuel and other supplies, and offer hospital facilities and strategic sealift for operations ashore. They will ensure that the military can continue to monitor and defend Canadian waters and make significant contributions to international naval operations. The JSS will provide Canada with a modern, task-tailored, globally deployable support capability for naval task groups for extended periods.