a
Naval Forces News - China
Zubr class amphibious hovercraft will allow Chinese Navy (PLAN) to quickly access Senkaku Islands
According to a report broadcast by Shenzhen Television, The new Zubr class amphibious hovercraft recently aquired and built by China will allow the PLAN to quikcly deploy troops to the disputed Senkaku Islands in the East China Sea as well as the Spratly islands and Taiwan itself.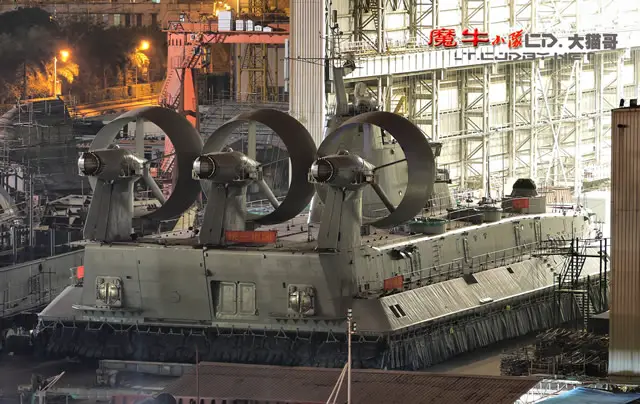 The first Zubr class LCAC built in China is nearing completion
The Senkaku Islands, also known as the Diaoyu, Diaoyutai or Pinnacle Islands are a group of uninhabited islands controlled by Japan in the East China Sea. The islands are a contentious issue in the foreign relations between Japan and the PRC and between Japan and Taiwan.

According the television report, setting off from the closest naval facilities in eastern China, the Zubr-class could reach the Senkaku Islands in just three hours.

Currently the world's largest hovercraft, development of Zubr landing ships started in the USSR in 1978, and the first serial ship joined Soviet Navy in 1988. Its carrying capacity is 3 main battle tanks with overall mass of 150 tons or 10 armored personnel carriers weighing up to 131 tons plus 140 marines, or 8 infantry fighting vehicles with mass up to 115 tons. If not carrying armor, Zubr is capable to accommodate 366 men.

In total, 14 Zubr-class ships have been launched; only two of them remain in inventory of Russian Navy. Five ships were decommissioned , two uncompleted, and five sold to Greece for the Hellenic Navy and where they are generally used in support of Special Forces. With the recent Chinese order, the total of Zubr-class ships to have been launched will reach 18.

Taiwan and its allies are concerned that these platforms may be used as part of Chinese offensive against Taiwan while south east asia nations are starting to voice concerns regarding the Spratly islands, a group of disputed islands claimed by China, Brunei, Vietnam, the Philippines, Malaysia and Taiwan.