a
Naval Industry News - Australia
All 4 SPY-1 Radar Arrays installed on Royal Australian Navy Hobart Class Air Warfare Destroyer
The Australian Air Warfare Destroyer (AWD) Alliance announced that all 4 AN/SPY-1D(V) radar arrays have been installed on the first vessel of the class, the future HMAS Hobart. SPY-1 is the primary air search radar of the Aegis Combat System. The S-band multi-function phased array radar system is designed to meet the most demanding requirements and environments. SPY-1 can automatically track multiple targets simultaneously while maintaining continuous surveillance of the sky, from the wave tops to the stratosphere.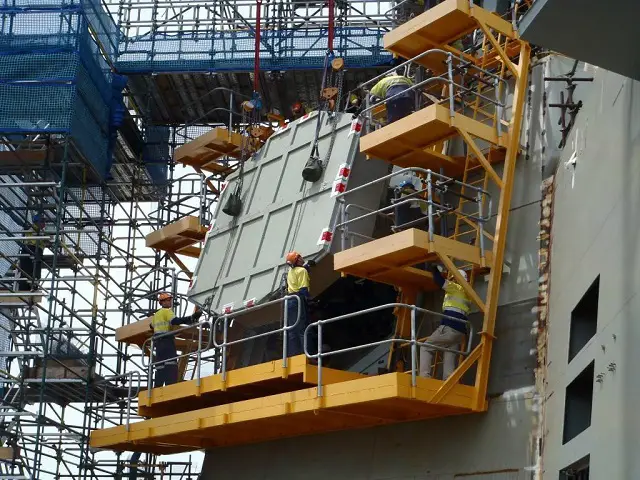 An AN/SPY-1D(V) is being fitted on the 1st Australian Air Warfare Destroyer
Picture: AWD Alliance
Built and designed by Lockheed Maritn, the AN/SPY-1D(V) variant is already fitted and proven at sea on board U.S. Navy's DDG 51 Flight IIA destroyers, Japanese Atago-class destroyers, South Korean King Sejong the Great-class destroyer (KDX-III) and Spanish Armada F-105 frigate.
Video: Air Warfare Destroyer Alliance
The AWDs are being built for Australia's specific defence needs and will provide a significant increase in Australia's defence capabilities. The AWDs will provide greater protection for ADF personnel by providing air defence for accompanying ships as well as land forces and infrastructure on nearby coastal areas. The AWDs will also provide self-protection against attacking missiles and aircraft.

The Aegis Weapon System incorporating the state-of-the-art phased array radar, AN/ SPY 1D(V), in combination with the SM-2 missile, will provide an advanced air defence system capable of engaging enemy aircraft and missiles at ranges in excess of 150 kilometres.

The AWDs will also carry a MH-60R Seahawk 'Romeo' naval combat helicopter for surveillance and response to support key warfare areas. The surface warfare function will include long range anti-ship missiles and a naval gun capable of firing extended range munitions in support of land forces. The AWDs will also be able to conduct Undersea Warfare and will be equipped with modern sonar systems, decoys and surface-launched torpedoes.

Coupled with an array of close-in defensive weapons, all of these capabilities ensure the AWDs have the layered defensive and offensive resources required to win the battle against 21st century conventional and asymmetric threats.

The Defence team is led by the AWD Program Office in the Defence Materiel Organisation (DMO), which retains overall responsibility for the project management and delivery of the three Air Warfare Destroyers. The DMO, through the Minister for Defence, is responsible to the people of Australia to ensure that the future AWDs are delivered to the RAN on time, on budget and to the required capability.