a
Naval Force News - USA
United States Coast Guard Investigating the use of Unmanned Aircraft Systems from Ships
Written by Lt. j.g. David Steele
For more than a decade, the U.S. military has employed unmanned aircraft systems, or UAS, to patrol the skies over targets and areas of interest, providing critical surveillance capabilities without putting pilots and crew in harm's way. With the recent demonstration of hand-launched UAS on board a Sector Miami Fast Response Cutter, the Coast Guard is continuing its evaluation of UAS capabilities and potential incorporation into future cutter operations.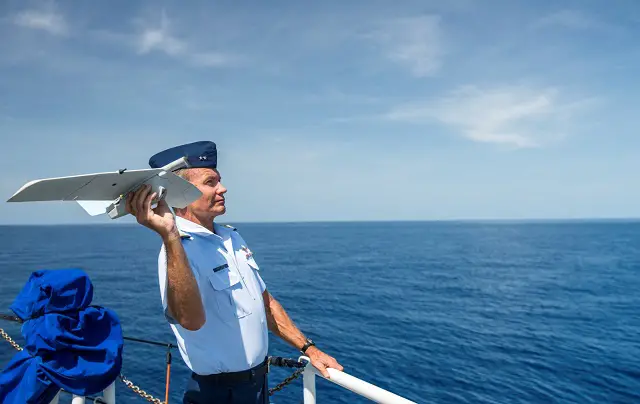 Rear Adm. John Korn, commander of the 7th Coast Guard District, launches an unmanned aircraft system during a testing phase onboard the Coast Guard Cutter Richard Etheridge. U.S. Coast Guard photo by Petty Officer 2nd Class Luke Clayton.
For a maritime service like the Coast Guard, UAS hold the promise of providing extended aerial presence, real-time intelligence and enhanced awareness across a wide array of Coast Guard missions. The miniaturization of aviation components, advancements in sensor packages and payloads, and the development of small, power-packed batteries mean that systems can be operated by a single individual with minimal support systems and equipment.

Within minutes of a call, the air vehicle can be assembled and launched chase down smugglers, scour the surface for an overturned fishing boat, assess the damage from a natural disaster, or monitor the migration routes of whales. These small unmanned aircraft systems, or sUAS, do not require runways, air conditioned control rooms or even pilots – they can be hand-launched and effectively deployed by an operator with less than two weeks of training.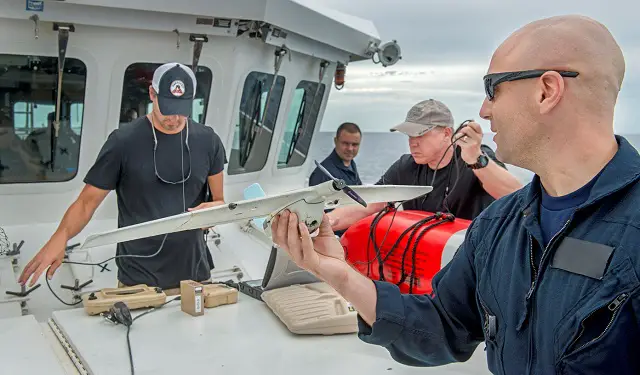 Lt. j.g David Steele from Sector Miami Response prepares to launch a WASP III while Dr. Andrew Niccolai and Timothy Ledbetter man the ground control station. U.S. Coast Guard photo by Petty Officer 2nd Class Luke Clayton.
In 2013, the Coast Guard Research and Development Center, or RDC, arranged for the transfer of 20 Aerovironment WASP III systems from the Marine Corps to assist in evaluating the potential contribution of sUAS capabilities towards Coast Guard missions. The WASP III is a battery-powered, hand-launched airborne reconnaissance and surveillance tool. Each system consists of four air vehicles and a ground control system that fits in a small case. The WASP III was never intended to be operated in a marine environment; however, the receipt of these assets at no cost allowed the Coast Guard to evaluate the use of sUAS capabilities in a variety of scenarios, including on board Coast Guard cutters and boats that are not equipped with flight decks. Despite the limitations of the WASP III for Coast Guard use, Andrew Niccolai, a research scientist with the RDC, is a firm believer that UAS has the potential to be a game-changer for the service.

"A platform like this is an amazing force-multiplier" said Niccolai, "It's essentially flying eyes in the sky."

Sector Miami's response department approached the RDC in February 2014 with a proposal to evaluate the feasibility of deploying sUAS from the service's new Fast Response Cutters.. After clearing numerous legal and administrative obstacles, Coast Guard Cutter Richard Etheridge was designated as the testing platform and exercises were scheduled for August 2014.

Testing conditions the first day were optimal with seas less than one foot and minimal relative winds. Niccolai and Timothy Ledbetter, both from the Coast Guard RDC, successfully launched the WASP off the starboard bow, and the aircraft soared into the sky, marking the first time a sUAS deployed from a non-flight deck equipped cutter. The ground control station was able to receive real-time video from the wing-mounted cameras. After a 30-minute flight, the WASP was brought in for a water landing off the starboard beam, and the cutter's crew recovered the aircraft and prepped a second airframe for launch.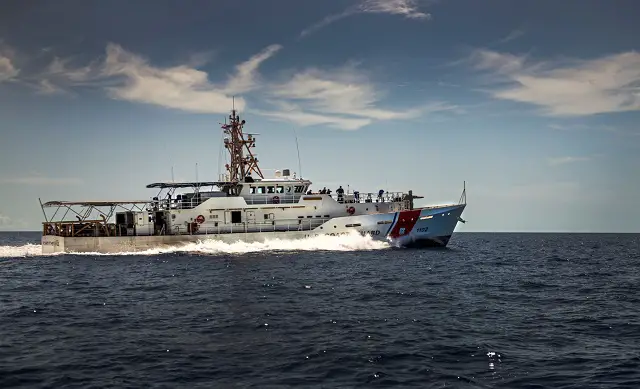 Coast Guard Cutter Richard Etheridge. U.S. Coast Guard photo.
Through five days of testing, the RDC conducted 10 successful flights totaling over 3.5 hours of flight time. The WASP III was able to record and transmit both standard color and infrared video to the cutter while in flight. Niccolai and Ledbetter were able to successfully launch the sUAS from both the cutter and its small boat, while transmitting video to both platforms simultaneously.

At the conclusion of the demonstration, Lt. Cmdr. Staci Brown, commanding officer of Richard Etheridge, was duly impressed.

"UAS are an excellent force-multiplier for non-flight deck equipped ships," said Brown. "The capabilities they bring enhance any unit's ability to build an accurate surface picture, create battle space awareness, and detect and identify targets of interest across a broad spectrum of Coast Guard missions."