a
World Naval News - China
China's refitted aircraft carrier sets sail for 3rd trial at sea
China's aircraft carrier set off for its third sea trials yesterday with experts saying they may involve the first tests of aircraft landing and taking off. The Ministry of National Defense said previously that the carrier had completed all refitting and testing work as scheduled and the following sea trials would be for scientific research and experiments.

The carrier was towed out by five tugboats at 2:30pm from the port of Dalian in northeast China's Liaoning Province to the Yellow Sea.

The trials will last for nine days in an area out of bounds to other shipping, the Dalian Maritime Bureau said on its website.

The sea trials will still focus on how the carrier handles, but helicopters should begin landing and taking off from the deck in a prelude to tests for fixed-wing aircraft, said Zhang Yao, senior researcher of the Shanghai Institutes for International Studies and an aircraft carrier expert.

"The aircraft carrier will have fighting capacity only after the fighters can land and take off from the carrier," Zhang told Shanghai Daily.

Li Jie, a researcher of the China Navy Military Academy, said the sea trials should involve aircraft flying low over the deck as well as letting their undercarriage touch the deck in preparation for actual landings.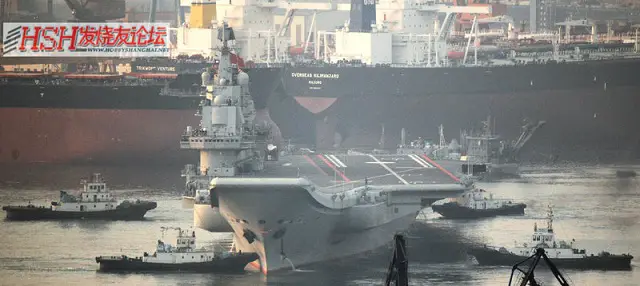 Ex- Varyag leaving for its third sea trials
The nation's first carrier, which is expected to be officially commissioned in the Navy in August next year, left port on August 10 for its first sea trials and returned four days later for further refurbishment.

It left the port again on November 29 and returned 13 days later.

The defense ministry said the first sea trial attained the anticipated objectives, but did not elaborate.

The carrier is said to be capable of carrying around 30 jet fighters, helicopters and 2,000 of a crew.
From: People's Daily Online