a
Naval Forces News - France
French Navy NH90 NFH Caïman Achieves IOC for the Release of Countermeasures
The French Navy (Marine Nationale) announced this week that its NH90 Nato Frigate Helicopter (NFH) "Caïman" achieved its Initial Operational Capability (IOC) for the release of countermeasures. This new IOC closely follow the IOC for anti-submarine warfare which
we reported a couple weeks ago.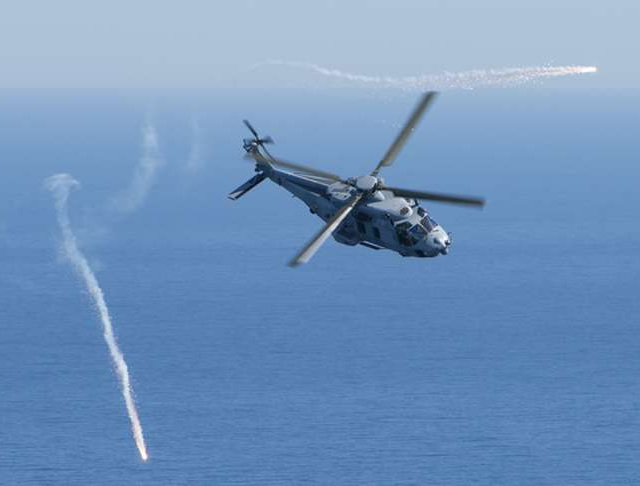 NH90 NFH Caiman helicopter releasing IR counter measures. Picture: French Navy
According to the press release, parts of the ant-missile protection modes are now available to the French Navy NH90 crews.
This is one more step for the NH90 Caiman as it becomes increasingly operational with the French Navy. The next steps will involve the training component capability, with the commissioning of the first flight simulator at Lanvéoc Poulmic Naval Air Station (in Britanny) in the coming weeks. The ESM electromagnetic detection system capability is expectd to be achieved in 2016.
The NH90 NFH Caiman is a multi-role maritime helicopter whose primary purpose is to conduct anti-submarine warfare (ASW) missions and anti-surface warfare (ASuW) missions from the
Aquitaine class frigates (FREMM)
and Horizon class air defense destroyers. It can also conduct maritime missions against terrorism, support of a naval forces and maritime search and rescue.