a
Naval Industry News - USA
Austal Delivered Future USS Jackson Littoral Combat Ship 6 to U.S. Navy

Austal Limited (Austal) is pleased to announce it has successfully delivered Littoral Combat Ship 6 (LCS 6), the future USS Jackson, to the U.S. Navy. USS Jackson is the first ship in its class built by Austal as prime contractor at its shipyard in Mobile, Alabama, under a 10 vessel, US$3.5 billion contract the U.S. Navy awarded to Austal in 2010.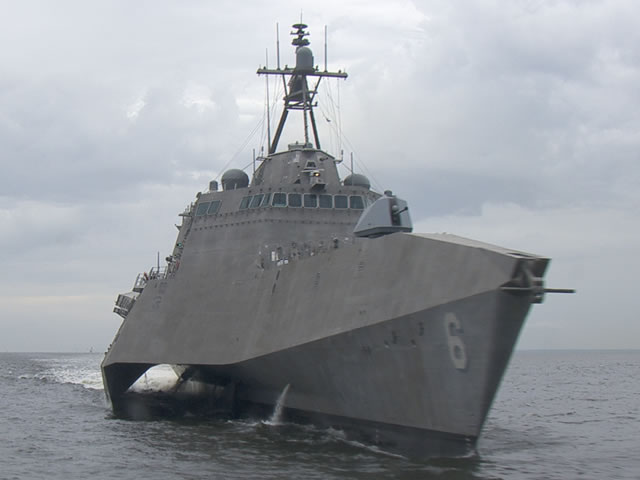 (June, 30, 2015)- The future USS Jackson is the sixth littoral combat ship (LCS) to be delivered to the Navy, the third of the Independence variant to join the fleet. (Photo by U.S. Navy)
Delivery marks the official transfer of LCS 6 from the shipbuilder, an Austal USA-led team, to the Navy. It is the final milestone prior to commissioning, which is planned for December 2015 in Gulfport, Mississippi.
"Today marks a significant milestone in the life of the future USS Jackson, an exceptional ship which will conduct anti-submarine, surface and mine countermeasure operations around the globe with ever increasing mission package capability" said LCS program manager Capt. Tom Anderson. "It also marks a significant milestone for the LCS program, as the first of 20 LCS block buy ships delivers to the Navy. It is exciting to see these capable, yet affordable, ships transitioning from serial production to serial delivery."
Following commissioning and shock trials, Jackson will be homeported in San Diego with her sister ships USS Freedom (LCS 1), USS Independence (LCS 2), USS Fort Worth (LCS 3), and USS Coronado (LCS 4).
The LCS class is designed to defeat threats in coastal waters where increasingly capable submarines, mines, and swarming small craft operate. To deliver capabilities against these threats, the Navy introduced LCS with innovative concepts, such as modular mission packages, to quickly respond to an evolving threat.
Link to Independence class LCS technical datasheet