a
Naval Defense Industry News - USA
BAE Systems Awarded Up to $130 Million to Upgrade Mk 45 Naval Guns on U.S. Navy Destroyers
The U.S. Navy has awarded BAE Systems a contract to overhaul and upgrade Mk 45 systems on
U.S. Navy Destroyer Class (DDG) ships
. The initial contract of approximately $80 million includes the upgrade of six guns to the Mod 4 configuration, with an option for four additional guns expected to be exercised in 2016, bringing the full value of the contract to $130 million.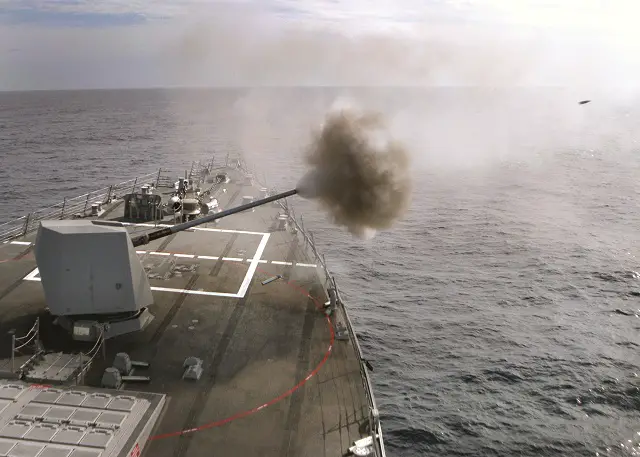 The BAE Systems Mk45 Mod 4 main gun is being fitted on all new-built (or upgraded) US Navy destroyers and cruisers
The Mod 4 capability upgrades include a 62-caliber barrel, strengthened gun and mount subsystems, enhanced advanced control systems, a reduced signature, and low maintenance gun shield. The operational and performance improvements are designed to support potential increased ranges for Naval Surface Fire Support achieved through future extended range guided munitions.

"Our combat-proven Mk 45 Naval Gun System provides ships with an effective weapon for anti-surface, strike, fire support, and anti-air warfare combat," said Joseph Senftle, vice president and general manager of Weapon Systems at BAE Systems. "This award strengthens our position in large caliber guns and promotes the United States' naval gun industrial base."

Work on this contract will be performed in Louisville, Kentucky, with support from Minneapolis, Minnesota. Delivery of the first upgraded gun will take place in October 2017 with the last delivery scheduled for January 2020.

BAE Systems has more than 40 years of experience with Mk 45 Mods 0-4, including more than 260 deliveries to the U.S. Navy and 10 fleets worldwide. The company's Louisville facility houses its Naval Guns Center of Excellence for Naval Gun System manufacturing, providing component and spares fabrication, as well as final system assembly and test of new and modernized Mk 45 Naval Gun Systems.