a
Naval Defense Industry News - USA
Lockheed Martin Expands Cruise Missile Production Facility

Lockheed Martin celebrated the opening of its cruise missile annex with a ribbon cutting ceremony today at its Pike County Operations facility in Troy, Alabama. Customers, state officials and community leaders joined employees in opening the annex, which will support an increase in U.S. and international orders.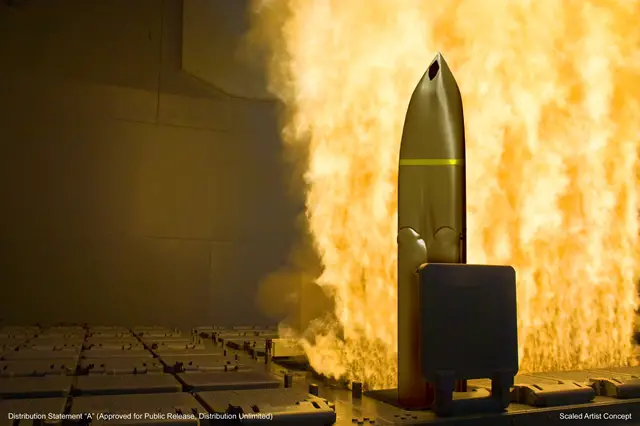 An LRASM launches from a VLS (Artist Impression)
(Picture: Lockheed Martin)

"The completion of the cruise missile annex represents the first fruits of Lockheed Martin's partnership with Alabama to promote long-term growth in Pike County," said Site Director David Anderson. "So far in 2015, we have hired over 75 employees to fill high-tech positions at our Pike County facility, 20 of whom support cruise missile final assembly. This growth is a result of new business our state partners helped us bring to Alabama."
Lockheed Martin's Troy facility has more than 370 employees in total, including 150 who directly support cruise missile programs--the Joint Air-to-Surface Standoff Missile (JASSM®) and JASSM-ER for U.S. customers and Foreign Military Sales, and the
Long-Range Anti-Ship Missile (LRASM)
, which Lockheed Martin is developing as a joint program with the Defense Advanced Research Projects Agency, the Department of the Navy and the U.S. Air Force. Lockheed Martin has spent $16.8 million to build the 64,500-square-foot annex, and a greater amount of direct capital to furnish and equip it.
Pike County Operations has been recognized for its commitment to continuous improvement and manufacturing excellence. In 2012, it received IndustryWeek magazine's "Best Plant" award, and the Alabama Performance Excellence Award. It was also a 2012 recipient of the U.S. Department of Commerce's Malcolm Baldrige National Quality Award for performance excellence, along with all Lockheed Martin Missiles and Fire Control sites.
To learn more: Link to
Long-Range Anti-Ship Missile (LRASM) Technical Datasheet