a
SNA 2016 Show News - BAE Systems 5-Inch Gun for FTI
BAE Systems Believes its 5 Inch Mk 45 is the Right Gun for French Navy's Future FTI Frigates
By Xavier Vavasseur
Navy Recognition learned during the Surface Navy Association's (SNA) National Symposium held last week near Washington DC, that BAE Systems Inc met with the French Navy (Marine Nationale) in October last year to discuss how the 5-Inch Mark 45 could be the main naval gun system for the upcoming FTI medium sized frigate program currently in development.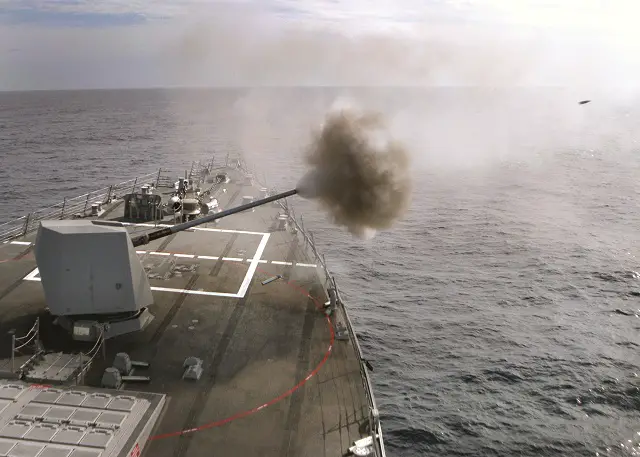 The BAE Systems Mk45 Mod 4 main gun is being fitted on all new-built (or upgraded) US Navy destroyers and cruisers
"The Mk 45 5 Inch is the lightest and most compact gun system in its class" stressed John Perry, Director of Business Development, during SNA 2016. He pointed out that it has been integrated on ships as small as 2,800 tons (Royal Thai Navy's Naresuan class Frigate) and as large as 7,000 tons (JMSDF Atago class Destroyer).

BAE Systems learned during the recent meeting that following operations in Libya, the French Navy found that their current 76mm and 100mm guns were insufficient in both range and lethality. According to John Perry, the existing Mk 45 is the most widely used naval gun of that caliber with over 150 systems in use by 11 navies and has become the standard for modern naval gunnery. US Allies benefit from commonality with the U.S. Navy through logistic support and continued investment in advanced ammunitions.
John Perry of BAE Systems discussing Hyper Velocity Projectile during Sea Air Space 2014
During the meeting, BAE Systems discussed Hyper Velocity Projectile (HVP) and Standard Guided Projectile (SGP) as well. The HVP is a next-generation, common, low drag, guided projectile capable of completing AAW, ASuW and Land Attack missions. The SGP is designed to provide long range against land and surface targets. Both projectiles deliver precision effects to a maximum range in excess of 50 nautical miles."The Mk45 Mod 4, firing the HVP and SGP munitions, will provide a substantial increase in range, lethality and multi-mission capability compared to both the 76mm and 100mm systems and will provide a cost-effect alternative compared to missile systems" Perry stated.

Navy Recognition understands BAE System is offering the Mod 4 variant of the 5 Inch Mark 45 gun: It offers the most modern digital control system and longer 62 caliber barrel providing longer range (unguided range increased to 20 nautical miles or 37 Kilometers). The maximum range for 76mm and 100mm naval gun systems is approximately 9 nautical miles (16 km), unguided, with a much smaller warhead.

John Perry told us at SNA 2016 that "the Marine Nationale was very receptive to Mk 45 and its advanced ammunitions for the FTI Frigate". In addition, BAE Systems representatives also met with French shipyard DCNS (the designer and future builder of the FTI Frigate) in December 2015 to support combat management system and ship integration studies. "The decision on the gun caliber for the FTI was considered an urgent matter in defining key characteristics of the combat system and ship design" Perry concluded.
The FTI may look somewhat similar to this computer rendering. (Image source: Thales video on the new Sea Fire 500 AESA radar)
French Defense Minister Jean-Yves Le Drian announced the start of the FTI program in May this year when disclosing an update to the
French Military Planning Law
: The French Navy will receive 8
FREMM Frigates
in total (while 11 of them were originally planned) and a new generation of frigates: the FTI (Frégate de Taille Intermédiaire or Midsize Frigate) will start being delivered in 2023 for a total of 5 hulls.
The new frigate, developed and built by DCNS, will be a 4,000 tons class front line warship. This frigate will have the advantages of modularity, robustness, ease of use and is expected to have an unrivaled operational capability on the market. Adapted to the needs of the French Navy and navies of many countries, the new DCNS frigate will benefit from the most advanced technology solutions, including planar array radar.