a
Naval Forces News - Russia
Russian Navy Slava-class Cruiser Varyag (Project 1164 Atlant) to be Refitted by 2020
The Project 1164 Varyag (NATO reporting name: Slava-class) guided missile cruiser, the flagship of the Russian Navy's Pacific Fleet, will have been upgraded and repaired until 2020, a source in defense industry told journalist on Friday.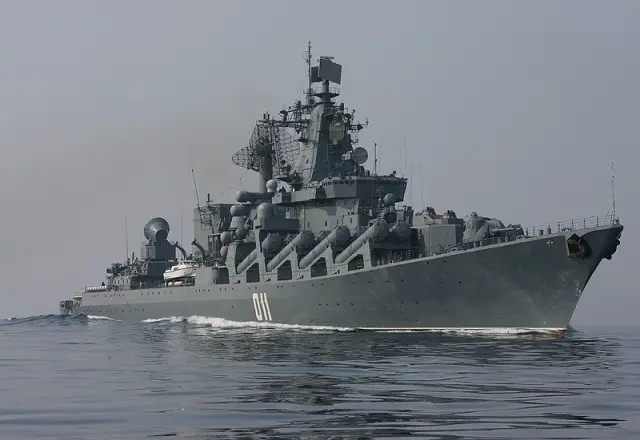 The Slava-class Cruiser Varyag
"
The Pacific Fleet's Varyag Guards guided missile cruiser will have been repaired and upgraded by 2020. A contractor for the job will be selected soon,
" the source said.
The ship's COGOG gas turbines, radars and other hardware enabling her to operate at sea and in the port will be updated.
At present, defense contractor Zvyozdochka in the city of Severodvinsk is repairing another ship in the class, the
Marshal Ustinov
cruiser. As was reported in the press, she will be furnished with an advanced missile system and will be back in service in 2016. The cruiser is known to have been fitted with the Podberyozovik 3D long-range and Fregat-M2M sea-skimming target acquisition radars as part of the modernization. According to media reports, the ship will not get new surface-to-air missile systems.
At present, the
Varyag
is in the eastern Mediterranean, covering the Russian air task force in Syria.
The Project 1164 Atlant-class cruisers are designed for dealing with enemy surface combatants and providing combat stability of Russian task forces in remote corners of the ocean. The development of the class began in the later 1970s. Four cruisers were built, of which three are in the Russian Navy's inventory. The cruisers in the class displace a total of 11,500 tons and measure 186 m in length. They have a full speed of 32 knots, a range of 7,500 nm at 18 knots, a 130-mm AK-130 gun, antiship and air defense missile systems, 30-mm AK-630M antiaircraft guns and torpedoes. They can carry a Kamov Ka-27 (Helix) helicopter or derivatives thereof.
© Copyright 2015 TASS. All rights reserved. This material may not be published, broadcast, rewritten or redistributed.