a
Focus - Russia's Project 23550 Ice-class Patrol Ship
Project 23550 Ice-class Patrol Ships to Significantly Strengthen Arctic Capabilities of Russian Navy

The two Project 23550 ice-class patrol boats ordered
last week
by Russian Ministry of Defense (MoD) will significantly increase the Arctic capabilities of the national Navy, according to Russian defense analysts.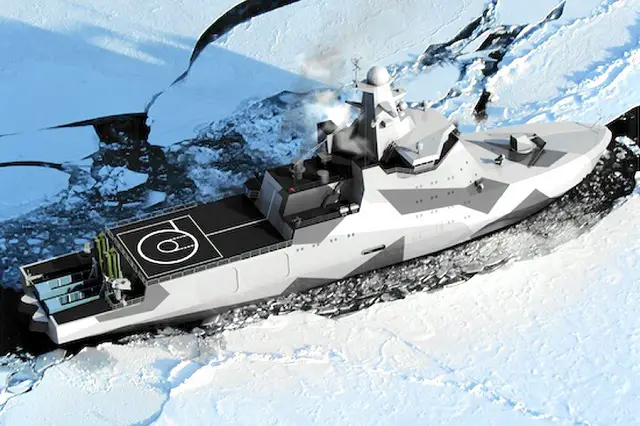 Project 23550 ice-class patrol ship fitted with 100mm main gun and Kalibr cruise missile launchers will be closer to a corvette rather a mere patrol vessel. Image: Russian Defense Ministry
Project 23550 combines the qualities of patrol boat, ice-breaker and tug, being a multi-purpose ship. As the MoD`s official spokeperson pointed out, the Project 23550 vessels "have no analogues in the world". The boat can break ice 1.5 m thick. The MoD does not disclose the specifications of Project 23550 ship.

But based on the official illustration released by the Russian MoD, the class will be armed with medium-caliber naval gun on the foredeck (reportedly, 100mm A-190-01 or 57mm A-220M developed by Burevestnik scientific-research institute) and two containerized missile launch system (probably, Kalibr-NK (NATO reporting name: SS-N-27 Sizzler) anti-ship/land-attack subsonic cruise missiles) and one Ka-27PS anti-submarine or Ka-27PL search-and-rescue helicopter.

"Don`t be confused by their designation and classification. Both Project 23550 so-called "patrol boats" are well armed. Their armament set does not come short of many corvettes," a source in Russian defense industry pointed out.

It should be noted that Russia is making significant efforts to beef up its Arctic capabilities. In Autumn 2015, Russian defense industry laid down the first Project 03182 multirole patrol/support ship. Russian shipbuilding industry is also constructing Project 20180 logistics ships, Project 1900 diesel-electric ice-breakers, and Project 22600 and Project 22220 nuclear-powered ice-breakers. The aforementioned ships will bolster Russia`s activity in the Arctic Region, according to the analysts.