a
Naval Forces News - France, USA
Further Qualification Trials for USMC V-22 Osprey and French Navy Mistral-class LHD
By Xavier Vavasseur
The French Navy (Marine Nationale) announced that it took another step in the interoperability between the V-22 Osprey and the
Mistral-class LHD
Dixmude
on May 2nd 2016. While V-22s have been tested with the Mistral-class several times to date (they were even officially qualified with the Mistral-class last year) it is the first time that the Bell-Boeing tilt-rotor aircraft was qualified for "blades and wings folding and long time parking" aboard the French Navy LHD.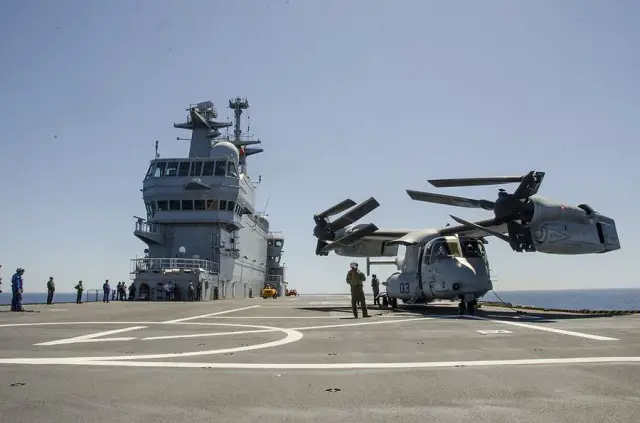 USMC MV-22B Osprey foalding its rotors and wings aboard Mistral-class LHD Dixmude
French Navy picture
This new testing campaign involved the French Navy's Naval Aviation Practical Experimentation Center (centre d'expérimentations pratiques de l'aéronautique navale - CEPA) and an MV-22B Osprey from Marine Medium Tiltrotor Squadron 263 (VMM-263).

The test which took place of the coast of Spain involved:
- The loading & unloading of cargo with V-22's engines running
- The refuelling of the tilt-rotor aircraft
- The foalding of rotors and wings
- The towing of the Osprey with the LHD's flight deck tractors
- The tying down of the V-22 on the flight deck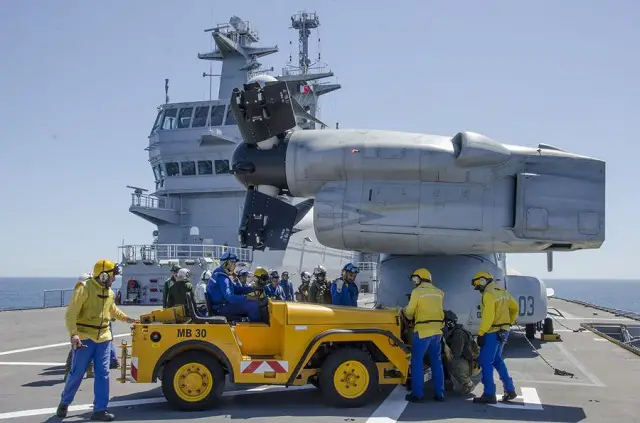 The Dixmude's flight deck tractor about to tow the USMC MV-22B Osprey
French Navy picture
According to the French Navy:
"all these capabilities will enable to achieve operational interoperability to transport troops or logistical supply, similar to the C2 Greyhound on the aircraft carrier Charles de Gaulle"
.
In
March this year
, two USMC V-22s were refuelled back-to-back aboard Mistral-class LHD
Tonnerre
. In
September last year
, the French navy declared the V-22 Osprey "fully qualified for operational missions to and from the Mistral class". Similar qualifications are expected to take place on board aircraft carrier
Charles de Gaulle
.
Navy Recognition
reported earlier this year
that the French Navy may be interested in the V-22 Osprey for a carrier onboard delivery role. In addition, there could be a V-22 Osprey at Euronaval 2016 in October.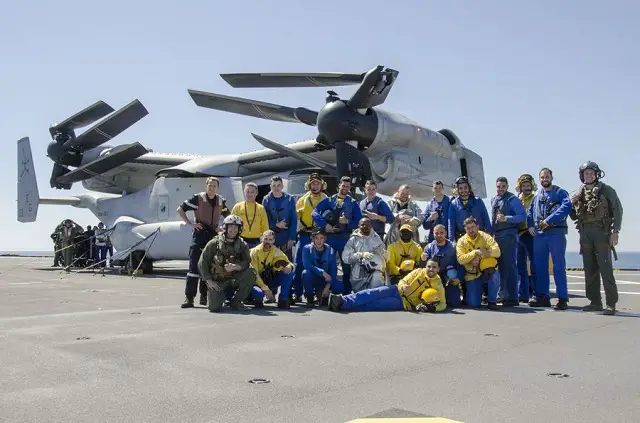 USMC MV-22B Osprey crew from Marine Medium Tiltrotor Squadron 263 (VMM-263) posing with the Dixmude flight deck crew. French Navy picture