a
Naval Industry News - Russian
Shipyard in northwest Russia floats out Project 22220 nuclear-powered icebreaker Arktika
The Baltic Fleet in St. Petersburg in northwest Russia has floated out the nuclear-powered icebreaker Arktika, a TASS correspondent reports from the scene. "The ceremony of floating out the icebreaker Arktika is a great achievement," Head of Russia's nuclear power corporation Rosatom Sergei Kiriyenko said. "We can say today that this nuclear-powered icebreaker will be able to join Rosatomflot Company by the end of 2017," he added.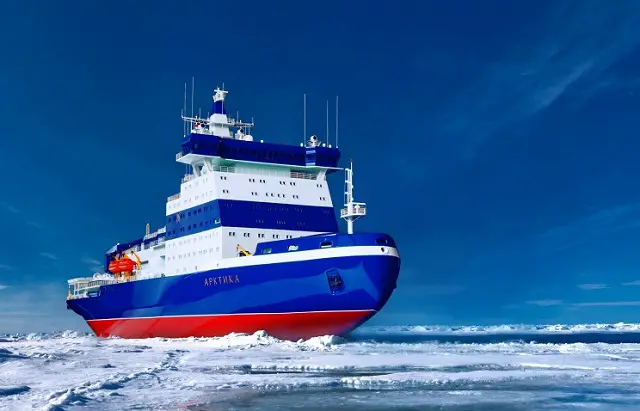 Artist impression of nuclear powered icebreaker "Arktika" (project 22220)
Image: Atomflot
"The icebreaker will strengthen the country's defense potential and ensure year-round navigation in the Arctic, as well as economic development in the region essential for Russia and the world," Kiriyenko added.

The nuclear-powered icebreaker Arktika is one out of three vessels being built to renew Russia's nuclear-powered icebreaker fleet.

The service life of three nuclear-powered icebreakers currently operational in Russia will end by 2020. They are planned to be replaced with three nuclear-powered icebreakers, in particular, the lead ship Arktika and two serial vessels, the Sibir and Ural.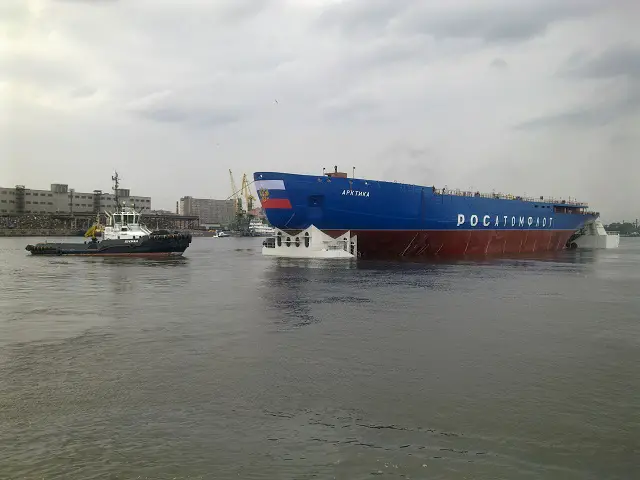 Lead icebreaker project 22220 Arktika hull in the water. (Picutre: sam7 / forums.airbase.ru)
The three icebreakers are planned to be delivered to the customer in 2017, 2019 and 2020, respectively. The three icebreakers are currently under construction at the Baltic Shipyard in St. Petersburg on order of Rosatomflot Company, part of Russia's Rosatom Corporation. The Project 22220 lead icebreaker Arktika was laid down at the Baltic Shipyard in November 2013. The project is estimated at 122 billion rubles ($1.9 billion).

The icebreaker incorporates technologies that were not used in the nuclear-powered fleet earlier. In particular, the ship's double draught with a controlled submersion depth will allow it to lead a group of vessels in ice-covered areas and river outlets and its new nuclear reactor will make it possible to navigate for more than six months without calling at ports for recharging.

The icebreaker is planned to be able to navigate about seven years without recharging. The icebreaker will receive two water desalination systems able to process 70 tons of water each. As of today, the Baltic Shipyard has more than 10,000 tons of assembled metal structures for the future icebreaker in its slipway.

Project 22220 Nuclear-powered Icebrakers are set to become the largest and most powerful icebreakers in the world. Their length is 173.3 meters with a width of 34 meters and draft of 10.5 meters. Projected tonnage is 33,540 tons. It will be fitted with two RITM-200 pressurized water reactors for a capacity of 175 MW.

© Copyright 2015 TASS. All rights reserved. This material may not be published, broadcast, rewritten or redistributed.