a
Naval Defense Industry News - USA
U.S. Coast Guard To Acquire Three Additional Lockheed Martin HC-130J Surveillance Aircraft
Lockheed Martin received a $218 million contract for three additional HC-130Js for the U.S. Coast Guard. This will increase the U.S. Coast Guard fleet of HC-130Js from six to nine. The contract also includes funding for two mission suites, which are critical in supporting U.S. Coast Guard search and rescue operations. The new aircraft are scheduled to be delivered in early 2015.

"The Coast Guard, like many services in the Hercules family, continues to recapitalize with the C-130J," said Jack Crisler, Lockheed Martin vice president for Air Mobility. "The C-130J is without equal in terms of its multi-role, multi-mission flexibility and availability. No aircraft in production — or in development — can match the capabilities of the Super Hercules."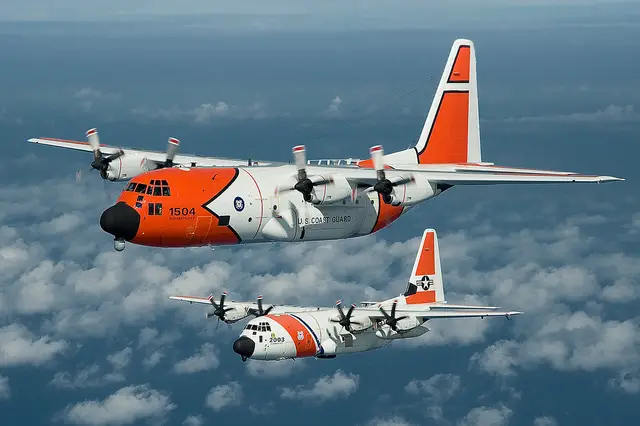 A C-130-H (top) displaying an historic color scheme to commemorate the 50th anniversary
of the C-130 in Coast Guard Service, flies in formation with a new HC-130J (bottom).
(picture: USCG)
The current fleet of HC-130Js, based at Air Station Elizabeth City, N.C., meets long-range maritime patrol requirements in areas that cannot be patrolled efficiently by medium range surveillance aircraft or cutters. The Long Range Surveillance (LRS) aircraft also provide heavy air transport for maritime safety and security teams, port security units, and National Strike Force personnel and equipment.

The HC-130J's special mission suite is comprised of a two mission system operator station located behind the pilot and co-pilot, a belly-mounted 360-degree long range search radar, nose-mounted forward looking infrared radar and an advanced mission communications suite. The missionized HC-130J is designed to deliver enhanced search, detection and tracking capabilities.

Headquartered in Bethesda, Md., Lockheed Martin is a global security and aerospace company that employs about 120,000 people worldwide and is principally engaged in the research, design, development, manufacture, integration and sustainment of advanced technology systems, products and services. The corporation's net sales for 2011 were $46.5 billion.