a
LIMA 2013 Daily News - Easat at LIMA 2013
Easat delivered a coastal surveillance radar to the Turks & Caicos Islands
The Easat Coastal Surveillance Radar was designed to assist the Turks & Caicos Government tackle the problem of illegal immigration and import of goods onto the island. The challenge to Easat was to design a system that would provide detection at maximum distances out to sea, allowing interception as well as being a visible deterrent to further illegal activity.

After an extensive detection study, Easat offered the high performance 5.5m reflector antenna type EA3462, mounted on a 40m tower. In addition to the radar equipment, Easat acted as the prime contractor for the complete radar system to include: radar processing, display system and radar tower complete with foundations and all civil construction work associated with the site including the monitoring building.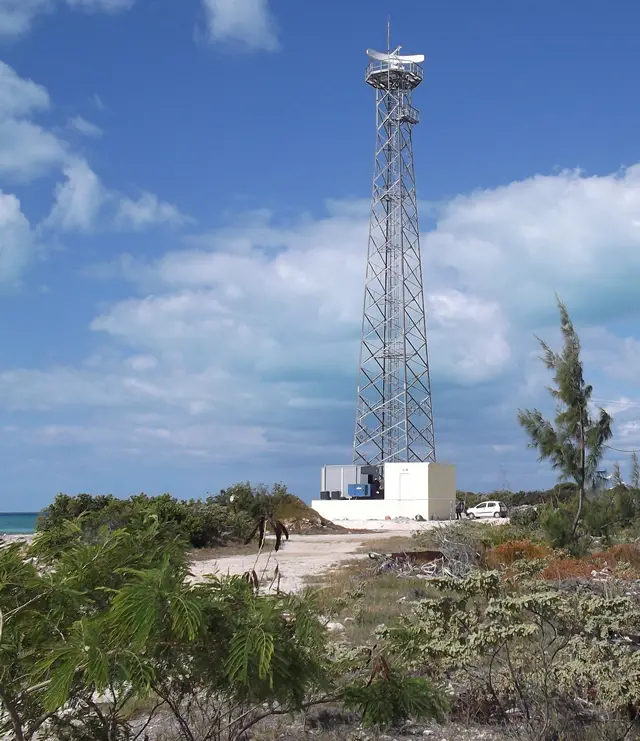 Picture: Easat
During the opening ceremony, several comments were received from the radar surveillance system owner and operators on how well the radar performs and indeed, exceeds all expectations in detecting the very small targets of concern, typically in the region of 1-2m² radar cross section, at ranges up to 12 nautical miles (22.2km) from the radar head.

"The radar system was first conceived to help stop illegal sloops from landing in the Turks & Caicos in 2006," said Clara Gardiner, Permanent Secretary of the Ministry of Border Control and Labour. "At that time the Government was spending over $600,000 per year to repatriate illegal persons." she added "We are confident that as word of our new capacity in detecting and monitoring vessels and their movements in and around our waters grows, that the system will see costs associated with such repatriations reduce significantly. This can only be to the further benefit of the people of the islands as the monies saved can be spent in other priority areas of the new incoming elected Government."

The opening ceremony was not only attended by senior members of the Turks and Caicos government but also dignitaries from neighbouring countries Easat is pleased to be able to contribute to the security of the Turks and Caicos Islands in providing a high performance system that will deter future intrusions of illegal activity and allow interception for the safety of life at sea within the island sovereign waters.