a
Focus - Textron Systems AAC
Textron Systems Unveiled its Advanced Amphibious Craft for US Army MSV(L) and US Navy SC(X)R
AUSA 2015 (Association of the US Army annual convention) may be an army event (which our affiliate website Army Recognition was covering) an eminently naval product was showcased for the first time, at the Textron Systems booth: The Advanced Amphibious Craft.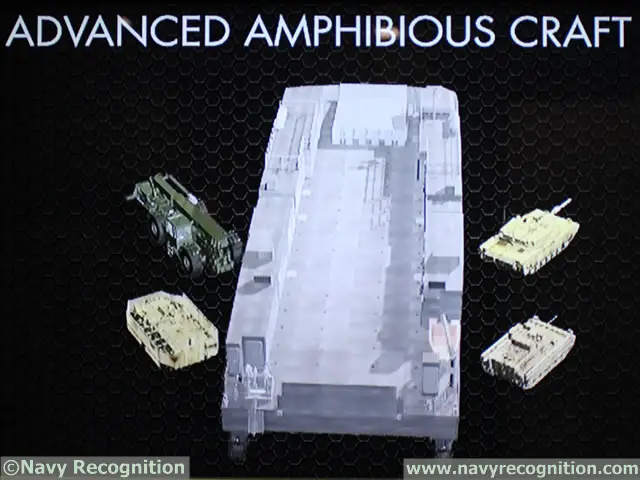 CGI of Textron's Advanced Amphibious Craft AAC on display during AUSA 2015
Textron representatives at AUSA 2015 told Navy Recognition that a configuration of the Advanced Amphibious Craft is their answer to the US Army request for proposal (RFP) for the Maneuver Support Vessel Light, MSV(L), program intended to replace the LCM-8 "Mike" landing craft. Textron is also planning to use a different variant of the Advanced Amphibious Craft to answer a future US Navy requirement: The Surface Connector X Replacement (SC(X)R) acquisition program for the replacement of 1960 era Landing Craft Utility (LCU). The US Navy is planning for a replacement of its ageing LCU by 2022 while the US Army decision on MSV(L) is expected to happen by year end or by early 2016.

The Advanced Amphibious Craft scale model on display at AUSA 2015 was representative of what is being proposed for the US Army MSV(L) requirement. We were explained that in this configuration, Textron's new landing craft project fits in a US Navy LHD or LPD but takes up two LCAC spaces. Navy Recognition understands that the configuration in the works for the future US Navy SC(X)R requirement would be different and smaller.


Pictures: Textron Systems Advanced Amphibious Craft AAC scale model at AUSA 2015
Textron's Advanced Amphibious Craft features a Roll-On/Roll-Off design with a folding ramp at the stern and a scissor type ramp at the bow. The bow ramp makes the craft compatible for both beaching and in port operations. Textron representatives would not comment on specification, performance and propulsion. According to the model, the craft is fitted with two water jets at the stern.
Navy Recognition
believes the Advanced Amphibious Craft may be a surface effect ship fitted with a catamaran hull combined with some lift fans: According to the model, the bow of the vessel features some kind of cushions similar to the
Norwegian Skjold class coastal corvette.

The only comment a Textron Systems representative was willing to make regarding the Advanced Amphibious Craft expected performance was
"We envision it will be able to operate well in the open seas"
and the expected endurance was 12 to 15 days.