a
Focus - P75I Indian Navy Submarine Project
Likely Contenders for Indian Navy P-75I Submarine Project
According to Indian English-language daily newspaper Hindustan Times, the Indian Navy recently submitted a Request for Information (RFI) to six shipbuilders to build six new submarines as part of the Project 75(I) (P-75I). Valued at €8.3-billion, India's biggest submarine procurement to date, P-75I is set to scale-up the Indian Navy submarine warfare capabilities. Important criterias that will guide supplier choice will be the Air Independent Propulsion (AIP) system, the means proposed to increase "endurance and stealth capability, anti-surface and anti-submarine warfare capability, and land attack capability" as well as other aspects such as transfer of technology (ToT).

Here is a brief overview of the likely 6 contenders for P-75I:
Saab new generation SSK Kockums A26. Picture: Saab
A26 - Sweden (Saab Kockums)
According to Saab, the A26 is a unique submarine with proven modular design, silent long-endurance Saab's A26 uses the latest stealth technology and advanced tactical communication to allow submarines to integrate their communications with those of other defence forces and civilian agencies. Operational flexibility, together with a comprehensive weapons suite, enables it to carry out a wide variety of missions. The A26 submarine is designed for the following missions: Maritime security operations, Intelligence operations, Covert mine countermeasure operations, Special operations by carrying, deploying and retrieving special forces along with equipment and underwater vehicles, Underwater work, Anti-submarine & anti-surface warfare, Mine-laying in covert mode.

Specifications (baseline)
Displacement: 1900 tons
Length: 63 meters
Beam: 6.4 meters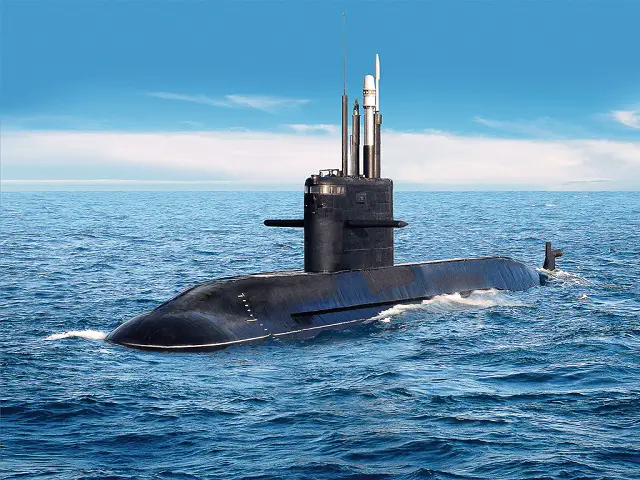 Computer rendering of an Amur-1650 class SSK. Image: Rubin
AMUR-1650 - Russia (Rubin)
The Amur-class is the export variant of the Russian Lada-class. According to its designer, compared to Kilo class submarines, the Amur 1650 submarine features a reduced displacement. The boat is distinguished by the capability of firing up to 6 missiles in a salvo against targets at sea and on shore, state-of-the-art electronic warfare systems and a sonar with a unique passive antenna to detect silent targets at a large range. Acoustic signature of the Amur 1650 submarine is several times lower compared to Kilo class submarines which are currently considered to be the most silent in the world. The submarine is equipped with electronic warfare systems of new generation based on the recent hi-tech solutions. The submarine can be operated in any oceanic area, except for the regions with extensive ice fields, at any weather, and in shallow and deep waters.

Specifications (baseline)
Displacement: 1765 tons
Length: 66.8 meters
Beam: 7.1 meters
Computer rendering of an S-80 class SSK. Image: Navantia
S-80 - Spain (Navantia)
The S-80 class (or Isaac Peral class) are AIP (air independent propulsion) submarines currently under construction for the Spanish Navy. Four boats have been ordered, three of which are under construction by Navantia at its yard in Cartagena. Construction of the submarines had been suspended in early 2013, when it was found that the first submarine in the series, the Isaac Peral, was 75 to 100 tons too heavy relative to its length. General Dynamics Electric Boat was brought in by Navantia through a Foreign Military Sale in 2013 to tackle the weight distribution issues. Each submarine has been stretched with a 10 meters ring to better distribute the weight of the submarine. The intended delivery date of the first submarine is 2018.

Specifications (baseline)
Displacement: 2200 tons
Length: 71.05 meters
Beam: 11.68 meters
Kalvari, the first of the six Scorpene class submarines built locally for the Indian Navy, started sea trials on June 1st, 2017. Indian Navy picture.
Scorpene - France (Naval Group)
According to Naval Group, the Scorpene is a conventional-propulsion submarine designed for all types of mission, such as surface vessel warfare, anti-submarine warfare, long-range strikes, special operations or intelligence gathering. With 14 submarines sold, the Scorpene proposed by Naval Group has now become an essential reference product in the area of conventional attack submarines (SSK) for Navies across the globe. Six submarines of the P75 project are being built by MDL through technology transfers from DCNS for the Indian Navy. "Kalvari", the first Scorpene class diesel-electric submarine (SSK) was launched in the water on 28th October 2015 in Mumbai. It started sea trials in May last year. The sea trials campaign went well and left Indian submariners with a very good impression. "Khanderi", the second submarine in the series, was launched in January 2017 and started sea trials in June. Four other submarines will follow in the wake of Khanderi, at intervals of nine months.

Specifications (baseline)
Displacement: 1870 tons
Length: 61.7 meters
Beam: 6.2 meters
Launch of SS-508 Sekiryu, the 8th Soryu-class SSK for the JMSDF, in November 2015. Picture: Kawasaki Heavy Industries
Soryu - Japan (MHI / KHI)
Ten Soryu class submarines are planned for the JMSDF. The class is an improved version of the Oyashio Class submarine. Soryu-class submarines are the world's largest conventionally powered submarines. They have an excellent operational track record and are equipped with state-of-the art technologies, including air-independent propulsion (AIP) systems that enable them to remain fully submerged for long periods of time, and advanced stealth technologies that make them more difficult to detect.

Specifications (baseline)
Displacement: 2900 tons
Length: 84.0 meters
Beam: 9.1 meters
A Portuguese Navy Type 214 SSK. Picture: TKMS
Type 214 - Germany (TKMS)
According to TKMS, the Type 214 is based on the proven design principles of the HDW Class 209 family with additional incorporation of innovative features of HDW Class 212A. The submarine represents a matchless, cost-effective solution for future-oriented navies, which is predestined for anti-surface ship/submarine operations, intelligence, surveillance and reconnaissance tasks as well as for special forces operations. It is well equipped to undertake a wide scope of missions ranging from operations in littoral waters to ocean-going patrols.

Specifications (baseline)
Displacement: 1700 tons
Length: 65.0 meters
Beam: 6.3 meters