a
Naval Technology - SOFRESUD IPD Target Designator

Video: SOFRESUD Unveils IPD Naval Target Designator & Wins 1st Contract with French Navy
At the 6th French defense procurement agency (DGA) Innovation Forum held last week near Paris, SOFRESUD, a company involved in Naval Defense and Maritime Surveillance, unveiled a naval pointer of new generation. This pointer named "Intuitive Pointing Device" (IPD) supplements the capabilities of complex automated systems typically found aboard vessels. Such systems can have difficulty to detect fast and stealthy targets with a low radar cross-section (RCS) and low-level surface or ground-based targets. Specifically designed for asymmetric threats, IPD further increases ship survivability.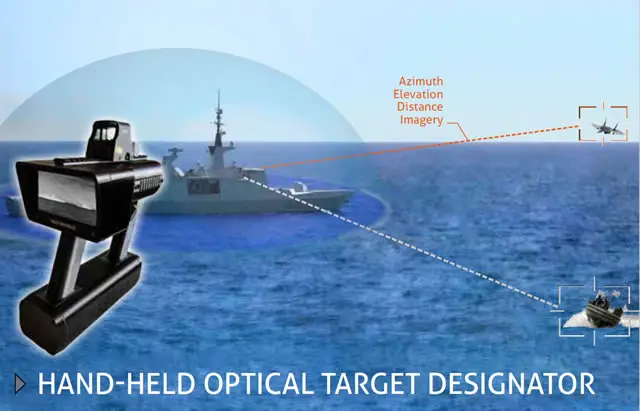 SOFRESUD image.
In a context of rising multiple threats and asymmetric scenarios at sea, there is more than ever a need to effectively deal with fast moving targets at close range. This capability to treat surging weak signals at short notice becomes of the upmost importance for ship protection. And yet, residual threat is not treated effectively using traditional naval target designators mounted on a fixed pole at the bridge since it offers limited horizontal and air coverage as well as insufficient negative elevation to watchkeepers. In the end, remote weapon systems also need an accurate designation to efficiently settle on time this type of situation.

The new IPD naval pointer was designed for very fast acquisition purpose in littoral warfare and integrates the outstanding performance of human eye detection (the famous Mk1 eyeball) to provide instantaneous pre-designation of any incoming air, land or surface threats only perceived by bridge crew or lookouts.Thus, the IPD pointer is the sole hand-held naval pointer in the world. Operated manually and intuitively through reflex action in close-in defense context, the agility of the IPD plays a decisive role in minimizing the sensor-to-shooter cycle while efficiently dealing with multiple and asymmetric threats (e.g. aerial drone, swarm of suicide boats, floating or USV-borne IEDs...).
Video interview on IPD during the 6th DGA innovation forum
Ships equipped with IPD are able to get faster designation of this kind of threat, giving crew precious extra-time to initiate a response plan. The accurate optic designations consists of imagery and 3D coordinates of weak hostile signals approaching or threatening the ship and instantaneously feeds the Remote Weapon Systems (RWS), Fire Control System and Combat Management Systems. Ultimately, the equipment is able to quickly queue multiple incoming targets in a saturation attack context. Incidentally, the pointer has no false alarm rates and can not be subject to jamming in high intensity conflict environments. Key Performances are the following:
• Portable and mobile with full angular coverage
• Accurate and quick designation
• Day or night capability with digital zoom
• Data, audio and video recording and transmission
• All weapon and combat management systems compatible
• Optional on picatinny rails: counter-UAV & blinding non-lethal accessories

With the IPD, SOFRESUD brings several innovative improvements compared to their previous system, the Quick Pointing Device (QPD): Enhanced performance in terms of detection, designation, image processing and system integration.

In its full configuration, the new IPD integrates many sensors to ensure all conditions capability:
- Extreme low light camera
- Uncooled IR camera
- Eye-safe laser rangefinder
- Fiber optic gyrometers
- Ambient microphone
- Display

Last but not least, the live operator's view is now relayed to the Operation Center through high connectivity to the CMS and 3D designation enriched with imageries is also timestamped and geo-referenced for later legal evidence support.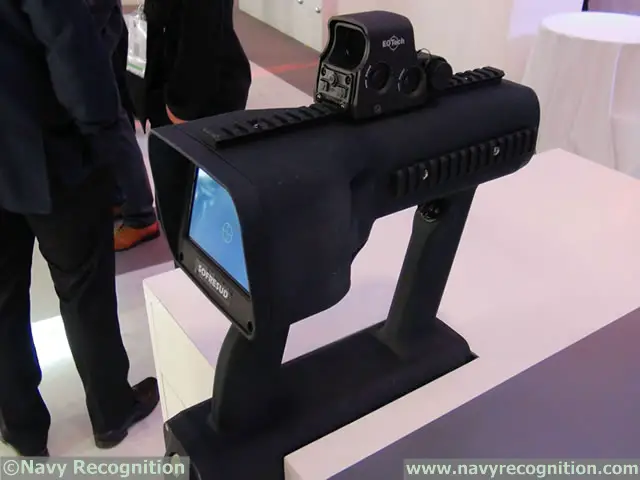 SOFRESUD's IPD has a "slew to cue" capability when coupled with the remote weapon stations (such as a Nexter Narhwal or MSI Defence Seahawk) vis the combat management. IPD operators can there steer and point the RWS to the exact location of the target. Optional equipment can be attached to the IDP thanks to picatinny rails: Sights, laser pointers, dazzlers...
First IPD customer: French Navy for the La Fayette-class Frigates
Besides the DGA event, the IPD has just been selected officially for installation on the French La Fayette class Frigates in the frame of the Mid-Life Modernization program.A number of other navies are also interested in the system mainly to assist remote weapon systems with fast optical pre-designation.

The previous sea-proven SOFRESUD's QPD pointer is operational since the 2000s with about 10 major navies worldwide representing more than 120 systems installed:
UK - Royal Navy (T45 destroyers)
ITALY - Marina Militare (LHD, FREMM Frigates, HORIZON Destroyers)
FRANCE - Marine Nationale (FREMM Frigates, HORIZON Destroyers)
NORWAY - Royal Norwegian Navy (Skjold-class FPB)
MALAYSIA - Royal Malaysian Navy (Gowind corvettes)
KSA - Royal Saudi Naval Forces (SAWARII II Frigates)
EGYPT - Egyptian Navy (FREMM Frigate)
MOROCCO - Royal Moroccan Navy (FREMM Frigate).