a
DIMDEX 2012 - Show Daily News
MMetal Shark Boats showcases its RB-S Patrol Boats at DIMDEX 2012
Following their success with a contract from the US Coast Guards for 470 Response Boat – Small (RB-S) vessels, Metal Shark Aluminum Boats is now showcasing this model as well as their full range of patrol boats to Qatari and Gulf countries Coast Guards.
A New Breed of Coastal Security


Based on Metal Shark's exceptional
Defiant platform
, the 28-foot RB-S is powered by twin 225-horsepower (hp) Honda outboards for speeds exceeding 40 knots with a minimum range of 150 nautical miles. RB-S meets all Port Security Grant requirements and is ideally-suited for port and waterway enforcement, search and rescue operations, drug and coastal interdiction, environmental and other law enforcement missions
.

U.S Coast Guards Response Boat – Small (RB-S)
(Picture: Metal Shark Boats)
The boat is road transportable for service between missions, and may also be transported via C130 aboard a specialized trailer. RBS also includes a full complement of communications and navigation gear, as well as shock-mitigating seats for enhanced crew comfort. The crew is further protected from foes - and the elements - by a fully-enclosed cabin enhanced with ballistic materials. The vessel's side and rear windows drop down to improve crew communication and ventilation.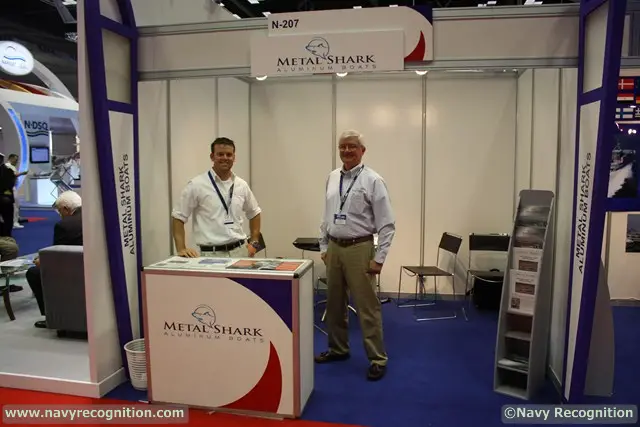 Metal Shark Aluminum Boats team at DIMDEX 2012
RB-S is also weapons-ready, with multiple weapons racks and an integrated weapons-ready mounting system at the bow. The forward-mounted gunner's platform provides 180-degree firing capability while a pass-through hatch leads to the cabin for easy access in any conditions.

Visit Metal Shark during DIMDEX 2012 on stand N-207, USA Pavilion.