a
Indo Marine 2012 - Show Daily News
Brahmos Aerospace working on a reduced size "Brahmos Mini" version for Rafale and Mig-29K
Brahmos Aerospace gave Navy Recognition an update on the status of Brahmos Mini during INDODEFENCE 2012, the Tri-service defence exhibition currently being held in Jakarta. While the mini version will be significantly reduced in size, the Indian-Russian joint venture is focusing on retaining the same speed, range and overall performance as the original, larger missile.

While the regular Brahmos missile already equips Indian Army and Indian Navy, the first drop tests from a SU-30MKI will occur in the next 5 to 6 months. Integration work on the platform has already occured for quite some time now in India with the participation of HAL, Sukhoi and the Indian MOD.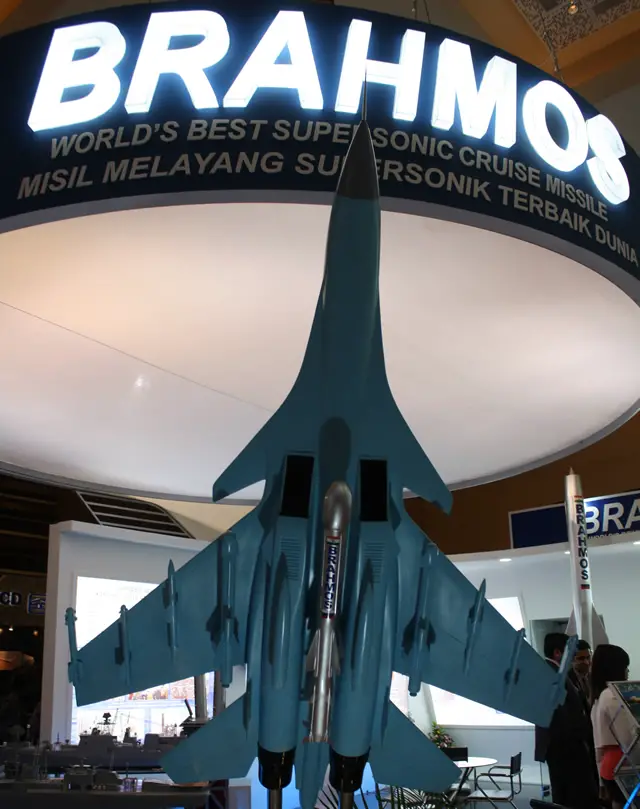 Brahmos fitted on a SU-30MKI model at Indo Defence/Indo Marine 2012
However Brahmos Aerospace has the feeling that with a smaller missile, it will be able to be present on many platforms. The company's first focus will be the integration of the future Brahmos mini on future Indian platforms such as the Rafale (winner of MMRCA) and Mig-29K of Indian navy.

Early work on Brahmos Mini is aimed at reducing many systems of the original missile, and the target weight for the "mini" version is 1.5 tons while retaining the original speed (Mach 2.8) and range 290 Km. First live tests could be conducted in about 2 years while subsystems trials are currently being conducted.
Brahmos stand at Indo Defence/Indo Marine 2012
The first platform to be integrated with Brahmos Mini will be of Russian origin, possible the Mig-29K of the Indian Navy. Brahmos Mini will be capable of withstanding aircraft carrier deck landings as the heavier, 2.5 tons missile already withstands all sorts of stress when launched from the various existing launchers.

While no talks have occured yet between Brahmos Aerospace and Dassault Aviation they plan to start contacts once the first missile tests have occured.

Regarding weapon loads, the Indian-Russian Joint Venture believes that after the required development and testing, both Mig-29K and Rafale should be able to carry between 1 and 3 Brahmos Mini.

On a larger scale, Brahmos Aerospace is confident that Brahmos Mini will open a huge potential market for the company, with specifications that very few competitors will be able to match.

Finally, regarding its presence at Indo Defence, Brahmos Aerospace told us that a lot of countries from the area have expressed interest for its land attack and anti-ship missile.