a
Indo Marine 2012 - Show Daily News
At IndoDefence 2012, German shipyard TKMS presented its latest range of Corvettes and OPV
TKMS presented its latest range of OPV and patrol Corvettes during IndoDefence, Indonesia's No.1 tri-service defence event, held in November 2012 in Jakarta. TKMS was showcasing its FLEXpatrol stealth patrol vessel, its MEKO 100 Patrol Corvette and its Guardian class OPV. These three classes of vessels are particularly matching the needs and requirement of South East Asia region navies.
Model of a MEKO 100 Patrol Corvette on TKMS stand during Indo Defence/Indo Marine 2012
On display at TKMS stand during the event was a model of the MEKO 100 Patrol Corvette. This class is based on the K130 Corvette (currently in use with the German Navy) and on a class already selected by a country in the region: The MEKO 100 Patrol Vessel has indeed been selected by the Malaysian Navy.

The Patrol Corvette version of the MEKO 100 combines the cost efficiency of a regular OPV with the enhanced warfighting capabilities of a Corvette type of vessel. A typical weapon fit would consist in:
» 1x 76mm main gun
» 1x 40mm secondary gun
» 2x 20mm cannon
» 4x Anti-ship missiles
» 8x SAM VLS cells

Sensors would typically consist in 3D Surveillance radar, hull mounted and towed array sonars, jammer and decoy systems... Such a weapon and sensor fit makes the MEKO 100 Patrol Corvette a true multi-purpose ship capable of conducting the full spectrum of modern naval missions (ASUW, ASW, AAW, Special Operations support, Anti-Piracy, etc.)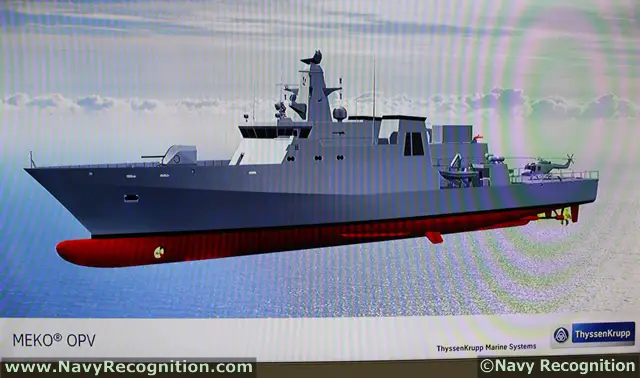 TKMS MEKO OPV as shown during Indo Defence/Indo Marine 2012
Also showcased at IndoDefence 2012 (presented on a flat screen) was the MEKO OPV. Just like the MEKO 100 Patrol Corvette, the OPV version of MEKO is also based on the original MEKO 100 Patrol Vessel design.

With a mix of commercial and military standards the vessel is a very flexible and economic solution for customer requirements ranging from the upper sphere of the military mission spectrum through to coast guard and even civilian missions.

The MEKO OPV shown at IndoDefence had the following specifications:
» Lenght of 87.30m
» Beam of 13.90m
» Full load displacement of 1,820 tons
» Crew of 78 sailors
» Propulsion: 2x MTU 12V 1163 TB93 (4,400 Kw each)

The MEKO OPV is equipped with a large helicopter deck and may carry modules to provide adequate utility spaces for temporary berthing of Special Forces, disaster victims or refugees, or the temporary storage of emergency supplies.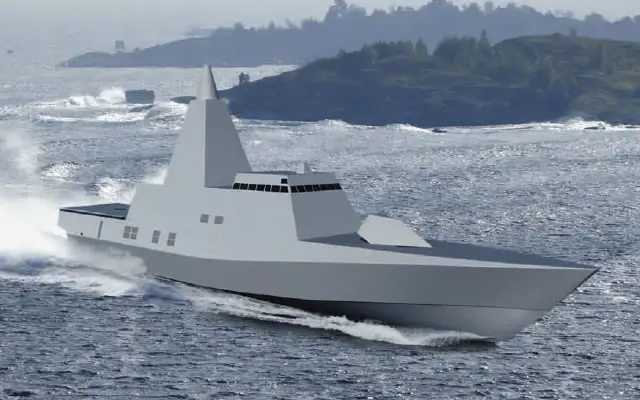 TKMS/Kockums FLExpatrol multi-mission Patrol Vessel
(Image: TKMS)
Finally TKMS was showcasing the futuristic FLEXpatrol multi-mission patrol vessel. Even tough no models or interactive screens were on display to showcase this particular class (we were told logistic choices had to be made), several TKMS experts on this class were present at IndoDefence to present the vessel to official delegations. They agreed to give some information about this avant-garde ship to Navy Recognition.

Based on the Swedish Navy Visby class (and not MEKO) the FLEXpatrol revolves around the GHOST system (Genuine, Holistic, Stealth) which aims at reducing all emissions from the ship (radar, acoustic, infra-red, and electromagnetic). Just like with the Visby class, one of the main requirements with FLEXpatrol is stealth. However, while Visby class ships are very customized and dedicated ship per request from the Swedish Navy, the FLEXpatrol other focus is versatility: It clearly is a multi-role vessel capable of carrying modular mission modules in order to conduct very different and very dedicated missions.

The FLEXpatrol is a fast moving, extremely versatile vessel requiring split-second decision making procedures. Accrued operational experience on the Visby corvettes has led us to believe in the shortest possible chains of communication between CIC, nautical and engine personal, a fact leading up to the one-station SuperBridge design. Each work station is interactive, a feature contributing to high grades of redundancy and the speeding up of processes.

The FLEXpatrol's landing deck and hangar accommodate aircraft of up to five tons, as for example the Eurocopter, SeaLynx, Bo-108 etc. Obviously the same aircraft facilities are the ideal platform for deploying Unmanned Aerial Vehicles (UAV).

The FLEXpatrol's drive chain comprises of four 3.4 MW diesel engines coupled to two steerable waterjets with reverse buckets. The drive chain confi guration guarantees excellent speeds, economic operations and (paired with the azithruster forward), maximum manoeuvrability. All diesel exhaust outlets are located beneath the waterline and cooled in order to reduce IR signatures.

Weaponry and decoys are hidden behind flush fitted flaps in the FLEXpatrol's angled hull. This feature, in combination with special coatings, minimize the bouncing-back of radar signals to emitters, and therefore render the FLEXpatrol exceptional levels of invisibility to most sensors. The outstanding stealth properties give eventual weapon deployment all the benefi ts of the surprise factor.