a
IndoDefence/IndoMarine 2012 - Show Daily News
Thales showcased its SMART-S Mk2 and VARIANT naval radars at IndoDefence 2012
Thales is at the forefront of developing new naval solutions to meet evolving environmental and security challenges. The Group has been a long-term partner for more than 50 Navies worldwide, providing customers with innovating offerings, from system design to through-life support. At IndoDefence 2012, Thales was showcasing its
SMART-S Mk2
and VARIANT radars. Both types are already selected by the Indonesian Navy.
Albert Willemsen, Regional Export Marketing & Sales Director Asia,
presents the Thales Naval Radars on display during Indodefence 2012
SMART-S Mk2
Link to Thales Smart-S Mk2 datasheet
Smart-S Mk2 is the continuous evolution of Thales proven 3D multi-beam radar family. This radar operates in E/F-band (or S-band) and is optimised for surveillance of 250 km with 70º elevation overage, target designation and undisturbed air and surface target tracking in littoral environments. Development of Smart-S Mk2 started in 2003 and at present no less than 40 systems have been sold. Smart-S Mk2 matches the full performance envelope of modern surface-to-air missiles, with direct assignment of VL-MICA, Evolved Sea Sparrow Missile (ESSM) and is suitable as a main air and surface surveillance radar for corvettes, frigates and amphibious ships. The radar offers two main modes, a special helicopter/UAS guidance capability and three surface fire control channels.
The SMART-S Mk2 has been selected to equip the future Indonesian Navy corvettes KPR. It has also been selected to upgrade the existing
French Navy Cassard class Anti-Aircraft Frigates.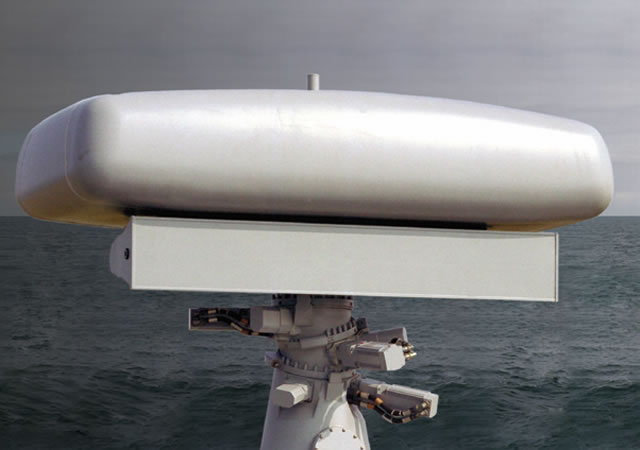 Thales VARIANT radar is currently in use by the Indonesian Navy as well as 8 other navies worldwide (Picture: Thales)
VARIANT
Variant is a multipurpose, short/medium range (70 km) 2D radar, simultaneously operating in the X and C-band for air and surface surveillance. Its principal role is as an automatic, fast reaction time radar sensor supplying targeting data to weapon systems. Its extensive features make Variant the answer in modern warfare, littoral and asymmetric threat environments. Variant provides air tracks without any operator intervention (auto target initiation and tracking). For surface targets, two fire control channels are available to support direct target engagement. The system is completed by an integrated Low Probability of Intercept (LPI) surface surveillance radar (SCOUT).

VARIANT has also been selected by the Indonesian Navy and is currently deployed onboard their Todak class Fast Patrol Boat
Many Thales systems will be onboard the future Indonesian Navy SIGMA PKR 10514
(Picture: Damen Schelde Naval Shipbuilding)
The Shipyard Royal Schelde and Thales deliver a wide range of products on the two corvettes that Royal Schelde has built for the Indonesian Navy. Thales supplies the ship's above-water defence system, the communication equipment and the sonar system. The first ship was commissioned in 2007. The corvettes are deployed by the Indonesian Navy chiefly for patrol duties in the Indonesian archipelago in order to combat smuggling, illegal fishery and piracy, especially in the Strait of Malacca. The above water defence systems installed on the corvettes, include: the TACTICOS, scaleable combat management system, the MW08 3D multiband surveillance radar, the LIROD Mk2 tracking radar, the LINK Y Mk2 datalink system and Target Designation Sights. For under water defence capability, the Thales Kingklip medium frequency active/passive Anti-Submarine Warfare (ASW) hull-mounted sonar has been selected. The corvettes' naval communication systems have been developed by Thales, based on the FOCON system. Thales has integrated the complete combat system on these corvettes.