a
DSEI 2015 Naval Daily News - Rheinmetall
Rheinmetall Unveils the High-Energy Laser HEL MLG for Naval Air Defence at DSEI 2015
Highly precise, scalable in effect, versatile in tactical situations, ready for deployment at sea - high energy laser effectors will play a major role in future armament concepts. Building on a 125-year heritage, Rheinmetall has once again made good its claim to be the global leader in high-energy laser (HEL) technology. The group is "hel-lighting" its role at DSEI 2015. On show is a newly developed powerful HEL effector for naval applications based on the MLG 27 light naval machine gun system.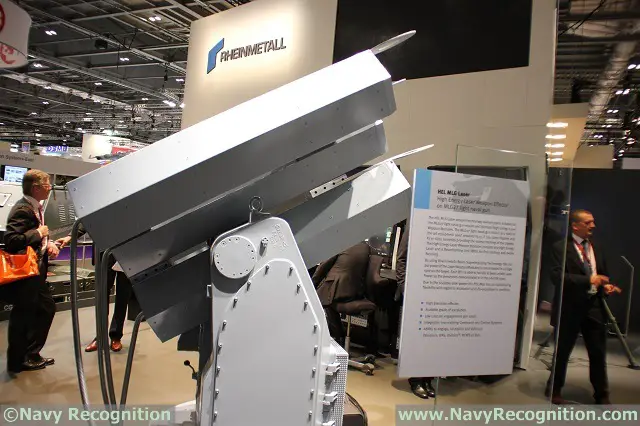 HEL MLG on Rheinmetall stand at DSEI 2015
Rheinmetall's HEL effector is one part of a ground-based laser weapon system. This versatile air defence system consists of an Oerlikon Skyshield or Skyguard fire control unit for target acquisition and weapon control, coupled with an Oerlikon high-energy laser gun using a revolver gun turret equipped with HEL effectors. Each HEL effector consists of one 10 kW fibre laser and a beam-forming unit. Commercial off-the-shelf fibre lasers were modified for an air defence role. The beam-forming unit provides diffraction-limited beam focusing, target imaging and fine tracking of the target.

By using beam-superimposing technology, Rheinmetall has concentrated the power of single laser beams into one tiny spot. This technology not only allows superimposition of multiple laser beams on a single gun platform, but also superimposition of multiple gun platforms. This enables an almost unlimited (e.g. 100 kW and more) power output in line with the evolving air defence requirement. As a result, the high-energy laser gun provides efficient protection against a large spectrum of modern air threats.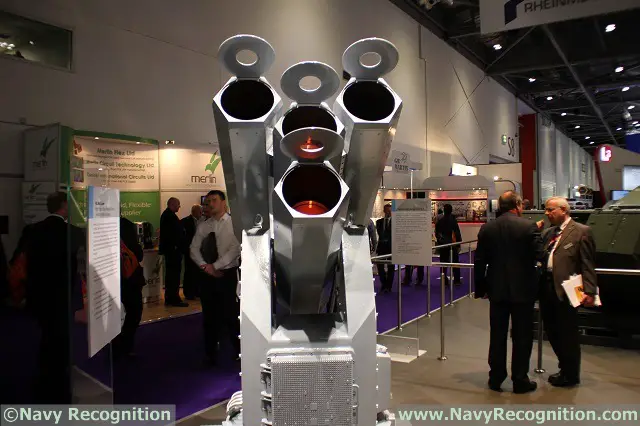 Up to 4 Beamforming Units may be fitted on the turret. Rheinmetall is developing a dual turret with a gun plus one Beamforming Unit as well.
Variants of the same technology are also available for naval operations: the company combined a MLG 27 and a HEL effector of the 20 kW class, which underwent sea trials in 2014.

Major surface combatants offer enough space to house the kind of generators needed to power high-energy laser effectors Therefore Rheinmetall has also developed a new standalone HEL effector for naval applications. This innovative device is also on display at DSEI 2015.

The HEL MLG Laser weapon techonolgy demonstrator is based on the MLG27 light naval gun mount and identical High Energy Laser Weapon Modules. The MLG27 light naval gun mount is state of the art equipment used onboard F123, F124 class Frigates and K130 class Corvettes providing the coarse tracking of the targets. The High Energy Laser Weapon Modules consists of a High Energy Laser and a Beamforming Unit (BFU) for fine tracking and beam focusing.

By using Rheinmetall's Beam Superimposing Technology, the output power of the Laser Weapon Modules is concentrated in a single spot on the target. Each BFU is able to handle at least 20kW Laser Power so the presented demonstrator is in the 100kW class. Rheinmetall's HEL MLG has ability to engage, neutralize and destruct optronics, UAS, RHIBs, RCWS...