a
LIMA 2015 Online Show Daily - DCNS
DCNS at LIMA, the Langkawi International Maritime & Aerospace Exhibition, 17 – 21 March 2015
DCNS is a world leader in naval defence and an innovator in the energy sector. As a naval prime contractor, systems integrator and shipbuilder, DCNS combines resources and expertise spanning the naval defence value chain and entire system lifecycles. DCNS delivers innovative solutions from integrated warships to strategic systems, equipment, services and new energy solutions. DCNS participates to LIMA exhibition in Langkawi (Malaysia) from 17 to 21 March 2015. It is a chance for DCNS to showcase its expertise in this key export market and to meet key players.

DCNS Stand at LIMA 2015
DCNS local and long-term commitment in Malaysia is illustrated by the creation of its subsidiary, DCNS Malaysia. Furthermore, DCNS is in a close partnership with Boustead Group in Malaysia through the Joint Venture Boustead DCNS Naval Corporation (BDNC) for the In-Service Support of the Royal Malaysian Navy Submarines. Indeed, DCNS offers this complete set of solutions in cooperation with Navies and local suppliers. Furthermore, DCNS provides a wide range of support services during the entire lifecycle of surface ships and submarines in order to support Navies in maintaining and expanding their self-sufficiency.

DCNS's product portfolio includes naval systems for surface combatants, submarines, services, underwater weapons, simulators for initial and ongoing crew training, and innovative solutions in marine renewable energy (MRE). Technologically complex programs are DCNS's core area of expertise. The Group is currently carrying out programs for clients on four continents.

The DCNS exhibit at LIMA will feature the Gowind® 2500 and the Gowind® 1000 with SETIS®, the Scorpene 2000 and Scorpene 1000 submarines, the OPV 75, the MU 90 and Canto, and an innovative concept ship, the SMX®-OCEAN.

DCNS Gowind range on display at LIMA 2015
Gowind® is an exceptional naval asset for missions ranging from counter-piracy to sea control and denial including anti-submarine warfare operations. Equipped with a SETIS® combat management system, based on the one equipping the FREMM frigates, Gowind® provides the full range of warfare capabilities. These corvettes have been designed to be simple to operate, easy to maintain and efficient. Gowind® platforms and mission systems can be tailored to customer requirements for an optimum trade-off between homeland security and naval combat capabilities.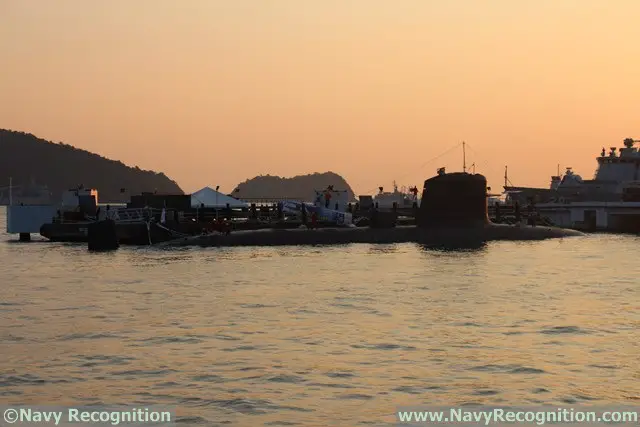 Royal Malaysian Navy Scorpene class SSK at LIMA 2015
The Scorpene 2000 submarines, already chosen by the Royal Malaysian Navy, represent the state-of-the-art in submarine design and construction and benefit from the latest technologies developed for nuclear-powered classes operated by the French Navy, particularly as regards acoustic discretion and combat system performance. Therewith, on the occasion of the LIMA show, the DCNS Group will showcase an innovative concept ship, the SMX®-OCEAN, the transposition of a BARRACUDA SSN design to a conventional submarine design. Thanks to the selected architectural options and the innovations it incorporates, the SMX®-OCEAN achieves exceptional performance while also being the first "green" submarine and fully compliant with the Marpol international convention with regard to the treatment of garbage and sewage. At last, the Scorpene 1000 submarine designed for navies needing a submarine optimized for littoral missions whilst maintaining the necessary strike force to protect national interests and to enforce sovereignty in blue waters.
DCNS is also at the forefront of developments in Marine Renewable Energies, a rising and promising new business sector. The Group is the only manufacturer in the world to explore four of the main technologies: tidal energy, floating wind energy, ocean thermal energy conversion, wave energy. STIR is easy to install on board. Most of its components are installed in the above-deck director. This results in a small below deck footprint and limited ship cabling.