a
NAVDEX 2015 - SAKT, MBDA, GEM
SIHAM AL KHALEEJ TECHNOLOGY, MBDA & GEM present their coastal defence system at IDEX 2015
At IDEX 2015, the UAE company Siham Al Khaleej Technology (SAKT), together with the European MBDA and the Italian GEM Elettronica is presenting an innovative and cost-effective coastal battery system. This cooperation is part of an Head of Agreement signed during 2013 Dubai Air Show that sees SAKT as the prime contractor and system integrator, MBDA as the supplier of the launchers and the launching systems for the Marte family missile, and GEM as the coastal battery remote station system supplier.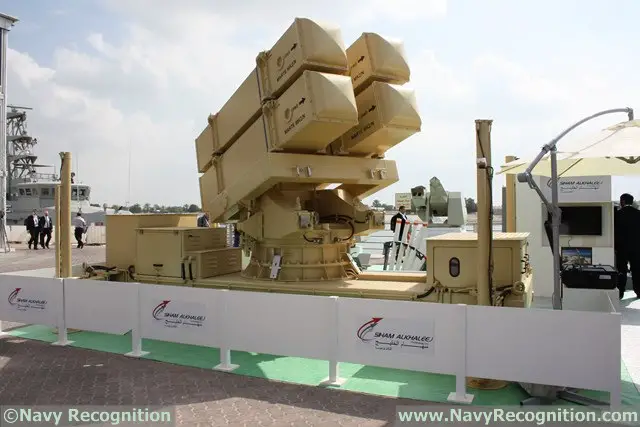 MBDA Coastal Defence System with Marte anti-ship missiles at NAVDEX 2015
The coastal defence system can provide both maritime coastal traffic surveillance and interdiction of territorial waters to hostile ships and can launch two different missile options: the Marte MK2/N, for those users willing to control littoral waters up to 35 Km ranges and the Marte ER for those operators requiring to extend the control in depth. The system can be connected through Data Link with an Upper Echelon of Command and Control; it can be rapidly deployed anywhere along the coast and easily redeployed in small islands.

The Coastal Battery Remote station (CBRS 100-MD) is a small size shelter-contained system, capable of operating in all weather conditions, day and night. As an option GEM is offering a TV/IIR capability to extend the overall identification performance.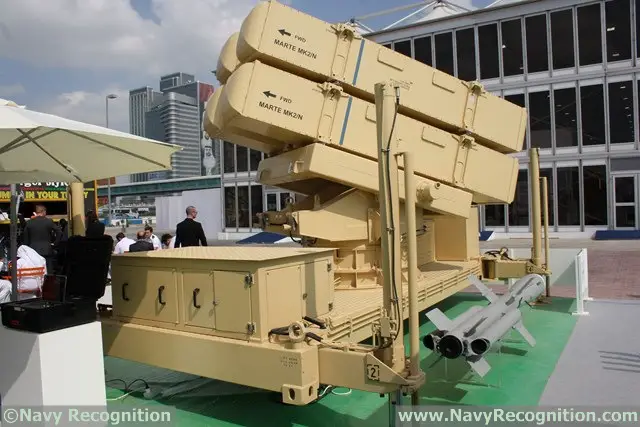 MBDA Coastal Defence System with Marte anti-ship missiles at NAVDEX 2015
The proposed system will be on display on SAKT stand, representing the baseline configuration of a Coastal Defence System that satisfies the key requirements of Surveillance, Control and Protection of sea lines of communications and protection of coastal assets.

The baseline is a very simple configuration with a minimum number of components (a very performing Surface Coastal radar, a shelter with Command & Control functions and devices, a Marte missile launcher) and reduced permanent crew requirement. The missile ammunitions of the Marte family will be supplied directly by MBDA.
Our interview on the MBDA Coastal Defence System last year at DIMDEX 2014