a
EURONAVAL 2016 Online Show Daily - Effebi

Effebi showcases its latest projects at Euronaval 2016
Effebi, Italian builder of commercial and patrol craft known for its versatile approach to customer demands combined with 30 years of expertise in building boats of up to 50 meters, is attending the Euronaval International Naval Defense and Maritime Exhibition from 17th to 21st October 2016.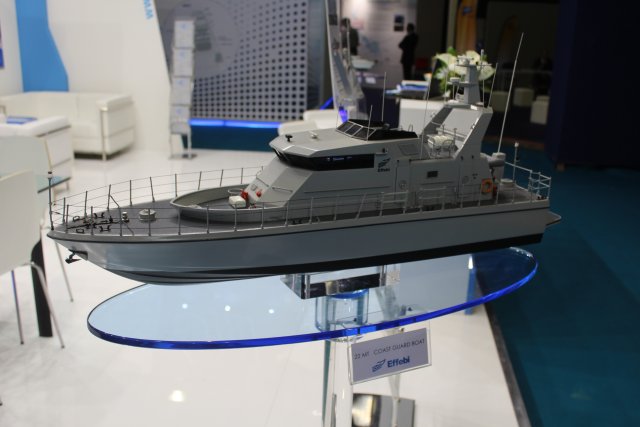 The Effebi 22 M Coast Guard boat scale model showcased at Euronaval (Photo NavyRecognition)
"We strongly believe in our presence at this event", declared Katia Balducci, Managing Director of Effebi. "Euronaval is a great opportunity for us to present the latest projects of the company as world premieres."

In 2016 Effebi has strengthened its presence on the market designing a new 19-metre model, studied to participate in the tender for the production of fast patrol boats for governmental authorities.

This is an extremely fast patrol boat (top speed 60 knots) for the Guardia di Finanza (Italian Finance Police), characterized by its high-level performance, able to maneuver in even the smallest spaces and make sudden changes in speed and/or stops even in adverse weather conditions at sea. Safety, speed and efficiency are the key words in this project.

The vessel was designed to be versatile, able to sail even with minimum crew, with rationalization of plants and equipment in order to facilitate maintenance operations.

With this 19-metre project, the Effebi fleet dedicated to Coast Guard Boats has enriched the array of vessels already present in the range featuring 13, 22 and 25-metre units, certain to continue the success of recent years which has witnessed the delivery of 23 vessels in less than 10 years.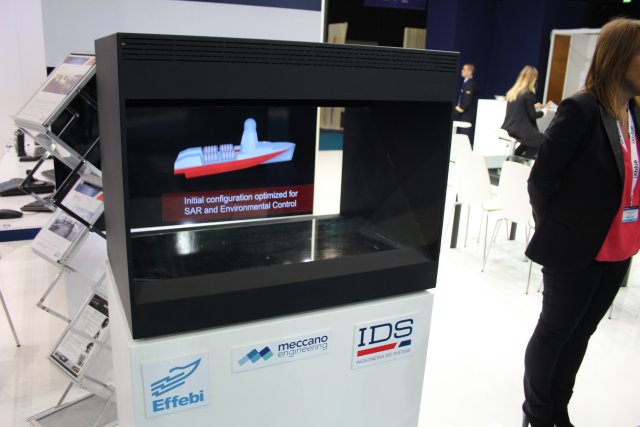 The "Sand" marine drone project designed by Effebi in partnership with 2 other italian companies : Meccano Engineering Srl and Ids Ingegneria dei sistemi

(Photo NavyRecognition)
2016 has also featured an innovative "Sand" marine drone project designed alongside Meccano Engineering Srl and Ids Ingegneria dei sistemi, thanks to important financing from the Regione Toscana in April this year. The project assisted by Navigo Innovazione e Sviluppo della nautica centro servizi Toscano, also involves the participation of the Scuola Superiore Sant'Anna in Pisa and the Prato campus of Florence University.

The drones, remote-controlled naval surface vessels, will be constructed at the Effebi plant in Avenza (MS).

The collaboration between Meccano Engineering Srl (naval, merchant and military design) and Ids (engineering of technologically complex systems) for the design of these marine drones, will produce the first 18-metre vessel, a unique and unprecedented modular model.

"The product will be modular and highly technological", explains Katia Balducci , Managing Director at Effebi, "this means that with few adjustments it can be used for various purposes; from the assistance and rescue of immigrants at sea to the monitoring of environmental conditions".

The idea of creating a modular marine drone stems from reflecting on the needs of a unit able to cover a number of tasks, from sea rescue and hydrographic research to the monitoring of environmental conditions. To date, in fact, these tasks are covered by various naval units, not just one; with the marine drone project, a number of uses will be combined in one single system.

Another distinctive characteristic of these drones, is their use in the absence of on-board personnel (unmanned vehicles) by means of an automatic pilot which will take control of the wheel house; it can also host other personnel on-board to command in traditional style, availing of priority commands over any instruction coming from a distance.

Research and innovation are, therefore, the approach adopted to meet the challenge of the market, distinctive elements of 2016 which will continue to be further developed in 2017.