a
IMDEX Asia 2017 Online Show Coverage - DCNS
DCNS Showcasing the Belhara Next Gen Frigate and Mistral LHD at IMDEX Asia 2017
DCNS is the European leader in naval defense and a major player in marine renewable energy. A long-term partner of Singapore, the Group is willing to strengthen its cooperation with local industry to enhance the city-state's sovereignty at sea and contribute to protect its strategic interests. The ultimate exhibition for the maritime defence community in Asia-Pacific, IMDEX 2017 is a great opportunity for DCNS to showcase its expertise and meet key-players on the Asia-Pacific market.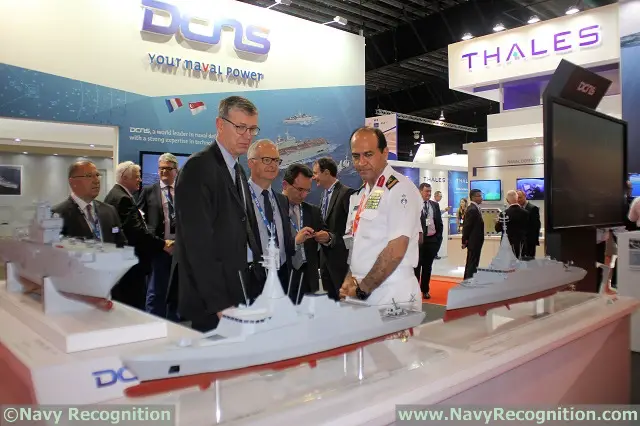 DCNS stand at IMDEX Asia 2017
Already well implanted in the Asia Pacific region with several ongoing programs in India, Australia or Malaysia, DCNS is committed to establishing long-term partnerships with local industry and shipyards to enhance its clients' local high-tech industrial content.

DCNS has a strong commitment in Singapore where it opened its first subsidiary in Asia, DCNS Far East, in 2005. The Group relies on its subsidiary to reinforce its partnership with Singaporean naval defense industry and its participation in naval defense projects launched by the Republic of Singapore Navy (RSN).

DCNS already has a successful experience with the RSN for the design and construction of six Formidable-class frigates, today considered as the most advanced surface combatants in Southeast Asia. In the frame of this program, DCNS developed close cooperation with local shipyard Singapore Technology Marine: while the first frigate was built in DCNS shipyard in Lorient (France), the other five were built in Singapore, through a full transfer of technology.

In the continuity of this program, together with DCNS Far East, DCNS further strengthened its cooperation with the Singaporean industry to provide engineering, technical and maintenance support to the frigates of the RSN. Today, the company also ensures the maintenance of the French Navy's Pacific-based surveillance frigates and extended its activities over the past years to provide expertise in port security systems, a deterrent device designed to protect military and civil assets.
Video
DCNS is showcasing its new Belharra frigate for the first time in Asia. BELH@RRA is the new front-line digital frigate dedicated to the international market and which renews the heavily-armed 4,000-tonne segment. DNCS completes its product line by positioning a latest-generation vessel between the 6,000-tonne FREMM multi-mission frigate segment and that of the 2,500- to 3,000-tonne GOWIND corvettes. With the BELH@RRA frigate, DCNS responds to the expectations of navies looking for a compact frigate, capable of ensuring long-range missions, operating alone or embedded in a naval force, on the high seas or as part of coastal surveillance missions in a dense and hostile environment. The new BELH@RRA frigate offers operational intelligence that is unequalled on the market, in addition to a modular design, robustness and simplified use, which are all the fruit of the technological evolutions of the last few years.
Mistral-class LHD scale model at IMDEX Asia 2017
DCNS is also showcasing the Mistral-class LHD. The Mistral-class LHD is a vessel that responds to the needs of numerous navies thanks to its versatility. It allows a wide spectrum of civil and military missions. With a length of 199 metres and a speed exceeding 18 knots, the Mistral-class LHD vessel is characterised by its high capacity for the transportation of troops, equipment, heavy helicopters and landing craft, which the LHD is capable of projecting around the world. It is equipped with an electric propulsion system that uses pods. It also has an onboard hospital, and can carry out large-scale humanitarian missions. Its highly capable communication system makes it the ideal command vessel within a naval force. The three first LHDs, Mistral, Tonnerre and Dixmude were delivered to the French Navy in 2006, 2007 and 2012.Two Mistral-class LHDs were delivered in 2016 to the Arab Republic of Egypt, including multiannual through-life support.
DCNS at IMDEX Asia 2017