a
Naval Forces News - Russia
Russia's Defense Ministry Ordered Development of Husky-class New Generation Submarine (SSN)
Russia's Malakhit Marine Engineering Design Bureau has signed a contract with the Defense Ministry to develop a fifth-generation nuclear-powered submarine, Design Bureau CEO Vladimir Dorofeyev said in an interview with Echo Moskvy radio station. "A contract for the development of a new-generation vessel has been signed with the Defense Ministry. The next-generation submarine is expected to be fully developed after 2020," Dorofeyev added.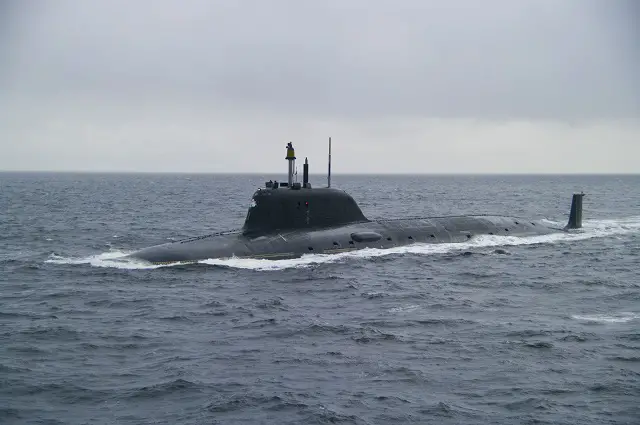 Russian Navy Project 885 Yasen-class Submarine Severodvinsk (K-560) underway. The successor will be the Husky-class fifth generation submarine.

As Russia's United Ship-Building Corporation said earlier, about two years will be required to work out the preliminary design of the fifth-generation Husky-class multipurpose nuclear-powered submarine. The Malakhit Marine Engineering Design Bureau in St. Petersburg in northwest Russia is developing the fifth-generation multipurpose nuclear-powered submarine. Russian shipbuilders are currently constructing a series of fourth-generation Project 885 Yasen-class nuclear-powered attack submarines.
United Ship-Building Corporation President Alexei Rakhmanov said previously that the fifth-generation submarine
"will feature a new weapons suite."
The United Ship-Building Corporation's task is to maximally standardize the submarine
"to offer a more favorable price to the Russian Defense Ministry,"
Rakhmanov added.
"If we complete developing the fourth-generation submarine in 2017-2018 and if we don't start the development of the fifth-generation submarine at that time, we will build it no sooner than 2030,"
he said in reply to a question about when the Husky-class submarine would be manufactured.
© Copyright 2016 TASS. All rights reserved. This material may not be published, broadcast, rewritten or redistributed.


Link to
Project 885 Yasen-class technical datasheet