a
Naval Industry News - UK
Babcock Completes Refurbishment Programme on Sandown-class MCM Vessel HMS Shoreham
Babcock has completed an extensive refurbishment and maintenance programme on HMS Shoreham, one of the Royal Navy's fleet of Sandown class minehunters, improving the ship's operational capability as well as carrying out innovative restoration work on the Glass Reinforced Plastic (GRP) hull.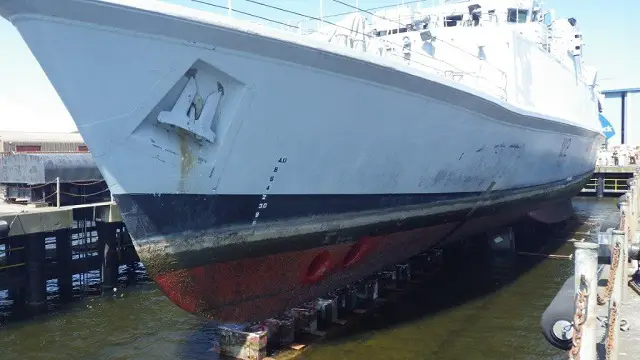 HMS Shoreham hull before refurbishment. Babcock picture.
This work has been undertaken as part of Babcock's contract with the Royal Navy to deliver the maintenance and upkeep of all seven Royal Navy Sandown class minehunters, which are base ported at Her Majesty's Naval Base Clyde on the west coast of Scotland. Each of the ships are required to undergo a docking period every five years as part of the programme and HMS Shoreham returned to Babcock's Rosyth facility in June after spending three years in the Gulf.

A range of improvements and alterations have been carried out, including the refurbishment and installation of a new design to the galley and the installation of a new fire detection system and improving the high pressure air system to meet capability requirements. Also, a significant task to paint the upper decks was required due to the vessel having been exposed to a hostile environment in the heat and humidity of the Gulf.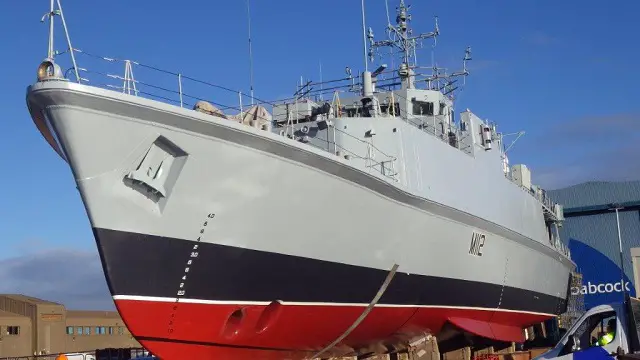 HMS Shoreham hull after refurbishment. Babcock picture.
Commodore Jim Higham, head of the Warship Support team at Defence Equipment and Support said:
"Maintaining the UK's minehunting fleet is a vitally important job in support of the Royal Navy's mission to safeguard our national interests at home and around the world.
"I'm delighted that HMS Shoreham is in a much improved material state and ready to make a welcome return to the Fleet thanks to the strong partnerships which exist across DE&S, the Royal Navy and our valued industry partners."

An unforeseen challenge was set when it was discovered the GRP hull required major restoration work. A collaborative team of Babcock's shipwright tradesmen from both Rosyth and Devonport who specialise in working with GRP as well as steel, so were able to use tried and tested processes to treat and restore the damaged areas on the hull.

Babcock Project Manager Dave Gibb explained:
"With a fibreglass ship, like the fleet of Sandown class minehunters, maintaining sections of the hull take time and precision. The hull is approximately 25mm thick and consists of many layers of glass cloth impregnated with resin. Our tradesmen would work in small steps, first cutting out, then layering each section with the fiberglass cloth. It's not a skill you see very often as most ships are made of steel."

Up to 80 people from Babcock have worked on HMS Shoreham every week during the completion of the work. An array of specialisations have been utilised throughout including electrical fitters, mechanical fitters, slingers, joiners, shipwrights and commissioning engineers. Two apprentices also worked on the ship, which proved to be a great opportunity for both to experience working on a vessel gaining an insight into ship refitting.

Now the refurbishment and maintenance programme is complete and the vessel has passed its Ready For Sea Inspection, HMS Shoreham is ready to return to the fleet in January. It will not be long until another ship from the fleet arrives in Rosyth for its scheduled refurbishment.

Sandown COM Senior Platform Manager Phil Garrett commented:
"The Royal Navy's fleet of Sandown class minehunters are extremely hard working vessels and our challenge is to maintain them and keep them operating at the highest level to meet all operational commitments. We are delighted to have successfully completed the work on HMS Shoreham and look forward to seeing the ship return to sea early next year."

Following HMS Shoreham's departure, HMS Grimsby will arrive in Rosyth for the refurbishment and maintenance programme next June, then HMS Penzance will arrive in May 2018