a
Naval Industry News - Russia
Pictures: Russian Navy 2nd Project 22350 Gorshkov-class Frigate Being Fitted Out in St Petersburg
Pictures published by spotters in Russia show the second Project 22350 (NATO reporting name: Admiral Gorshkov-class) frigate "Admiral Kasatonov" nearing completion at Severnaya Verf (Northern Shipyard) in Saint Petersburg.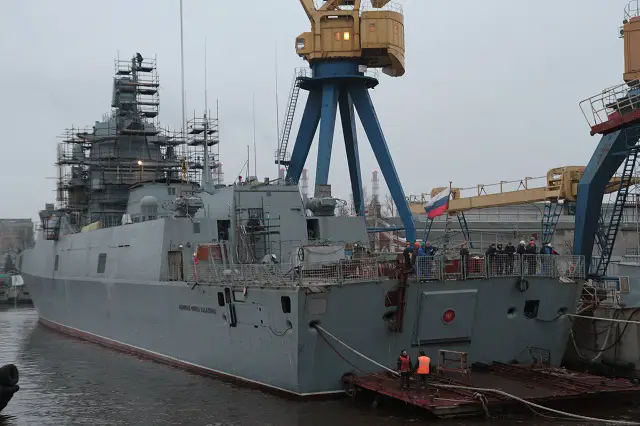 Admiral Kasatonov, the second Project 22350 Frigate of the Russia Navy at fitting out stage in St Petersburg. Picture: Alexey Akentev
The pictures are showing that the Furke-4 volume search radar is in place at the top of the main mast. The A-192M 130mm main naval gun system is still to be fitted however.

The frigate was laid down at Severnaya Verf on 26 November 2009 and launched on December 12, 2014. Start of sea trials was scheduled for 2016 but has been pushed back to 2017.

The lead ship of the Project 22350 series was laid down in early 2006 and set afloat in the fall of 2010. The frigate started its trials in November 2014. Delivery date to the Russian Navy is still uncertain. Launch of the third ship of the class, the Admiral Golovko, is scheduled for 2017.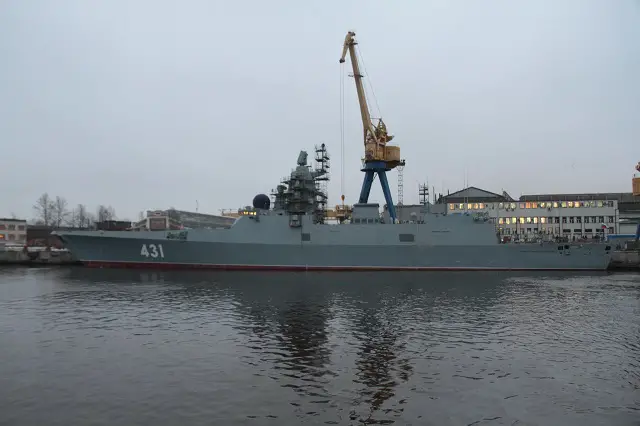 Admiral Kasatonov, the second Project 22350 Frigate of the Russia Navy at fitting out stage in St Petersburg. Picture: Alexey Akentev
The Project 22350 frigate is designed to fight surface warships and submarines in the ocean and coastal areas and repel air attacks both independently and within a formation. The Project 22350 frigate is flush-decked and has three-island superstructures, a tower mast and a steel tube. The ship has a lower radar signature.

The Project 22350 frigate has a displacement of 4,550 tons and a length of 135 meters. The capacity of its diesel-gas-turbine power plant is 65,000 hp. The ship is armed with the new A-192 130mm artillery gun and anti-ship, antisubmarine and air defense missile systems, including the Kalibr and Redut-Poliment systems.
The ship is capable of carrying a Kamov Ka-27 (Helix) helicopter or its versions.

Link to Admiral Gorshkov (Project 22350) Frigate technical datasheet