a
Naval Forces News - South Korea
Final Batch of AW159 Wildcat Maritime Helicopters Delivered to ROK Navy
AgustaWestland (Leonardo Helicopters) delivered the last batch of four AW159 Wildcat maritime helicopters to the Republic of Korean Navy (ROK Navy) in late November. The ROK Navy selected the Wildcat to meet its Maritime Operational Helicopter requirement and signed a contract for eight units in January 2013. A first batch of four helicopters were delivered in July this year.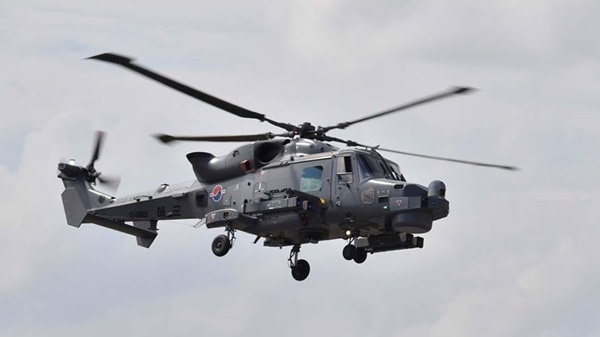 _

ROK Navy AW159 Wildcat. Picture: ROK Navy
The AW159 is a new generation multi-role military helicopter that is now replacing Lynx helicopters in service with the Royal Navy and British Army. The AW159 has a semi-rigid rotor head which gives it high agility and the same legendary ship operating capabilities of the Lynx helicopter. It is also fitted with composite rotor blades utilising the same technology that enabled the Lynx to break the world helicopter speed record. The AW159 is powered by a pair of LHTEC CTS800-4N engines, each providing up to 1,361 shp, which gives the aircraft exceptional performance, even in hot and high environments. The engine installation also incorporates exhausts with built in IR suppression to provide increased survivability. The AW159 has the most modern integrated cockpit of any naval helicopter, featuring four large area (10" x 8") cockpit displays and a fully integrated avionics suite and mission system to provide increased mission capability and increased crew effectiveness.

ROK Navy Wildcats are fitted with a Seaspray 7400E radar offering 360 degrees coverage. In January 2014, DAPA announced it will equip its Wildcat helicopters with Spike NLOS missiles to provide a stand-off attack capability for engaging targets such as ground artillery and small vessels. The helicopters are expected to operate from the ROK Navy's Incheon-class guided missile / coastal defense frigates. These will be used for search-and-rescue missions, anti-submarine warfare and surveillance.

Video on ROK Navy AW159 Wildcat
In addition to the eight Wildcats, the ROK Navy plans to spend another 900 billion won ($790 million) to buy 12 more helicopters. But it has not yet decided on the time frame for the purchase and the manufacturer, a ROK Navy spokesman said in July.